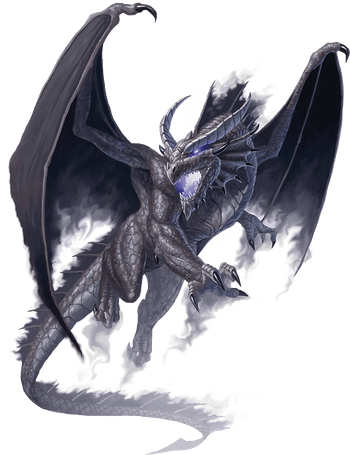 Young Red Shadow Dragon
Large dragon
Challenge

11
---
---
Defense note natural armor
Damage resistances necrotic
Damage immunities fire
---
Speed 8 m., climb 8 m., fly 20 m.
Senses blindsight 5 m., darkvision 20 m.
Languages Common, Draconic
---
Actions (3)
Bite (1/turn). Melee Weapon Attack: +9 to hit, reach 2 m. Hit: 15 (2d8 + 6) piercing damage plus 4 (1d8) necrotic damage.
Claw (2/turn). Melee Weapon Attack: +9 to hit. Hit: 13 (2d6 + 6) slashing damage.
Shadow Breath (Costs 2 actions; Recharge 5–6). The young red shadow dragon exhales shadowy fire in a 10-meter cone or line. Each creature in that area must make a Difficulty 17 Reflex saving throw. On a failure, a creature takes 56 (16d6) necrotic damage and is burning 3. On a success, a creature takes half as much damage and isn't burning. A humanoid reduced to 0 health by this damage dies, and an undead shadow rises from its corpse and acts immediately after the dragon in the initiative count. The shadow is under the dragon's control.
Underdarkmm