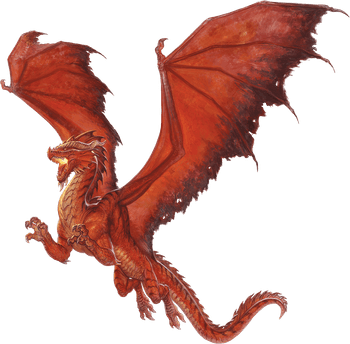 Red Greatwyrm
Gargantuan dragon
Challenge

27
---
STR

10
DEX

2
CON

10
INT

5
WIS

5
CHA

8
---
28
Soak

4
Fort

+17
Ref

+13
Will

+13
Defense note natural armor
Damage immunities fire
---
Speed 10 m., burrow 10 m., fly 20 m., swim 10 m.
Senses truesight 20 m.
Languages Common, Draconic
---
Draconic Awakening (Recharges after a Short or Long Rest). If the the red greatwyrm would be reduced to 0 health, its current hit point total instead resets to 426 health, it recharges its Breath Weapon, and it regains any expended uses of Legendary Resistance. Additionally, the the red greatwyrm can now use the options in the "Mythic Actions" section for 1 hour.
Legendary Resistance (4/day). If the red greatwyrm fails a saving throw, it can choose to succeed instead.
Spellcasting. The red greatwyrm uses Primal (cha) to cast spells (spell save Difficulty 24, +15 to hit with spell attacks). It has 13 mana, a mana limit of 5, regains all expended mana when it finishes a long rest, and regains half its total mana when it finishes a short rest. It knows the following spells:
Cantrips (at will, 34th-level spellcaster): burn, cauterize wound, control flames, produce flame
1 mana: ash fall, burning hands, command, continual flame, fear, fiery rebuke, flaming weapon, immolation, protection from fire, pyrotechnics, rising phoenix, scorching bolts, searing burst, searing strike
2 mana: animate flames, fireball, flame bane, flaming sphere, heat metal, incendiary cloud, incite panic, minute meteors, molten upheaval, wall of fire
5 mana: meteor swarm
Unusual Nature. The red greatwyrm doesn't require food or drink.
Actions (4)
Bite (1/turn). Melee Weapon Attack: +17 to hit, reach 3 m. Hit: 26 (3d10 + 10) piercing damage plus 17 (5d6) fire damage.
Claw (2/turn). Melee Weapon Attack: +17 to hit, reach 2 m. Hit: 23 (3d8 + 10) slashing damage. If the dragon uses the grapple maneuver, the target is restrained until the grapple ends, and the dragon can't constrict another target.
Tail (1/turn). Melee Weapon Attack: +17 to hit, reach 4 m. Hit: 23 (3d8 + 10) bludgeoning damage.
Fire Breath (Costs 2 actions; Recharge 5–6). The red greatwyrm exhales fire in a 20-meter cone or line. Each creature in that area must make a Difficulty 26 Reflex saving throw. On a failure, a creature takes 119 (34d6) fire damage and is burning 7. On a success, a creature takes half as much damage and isn't burning.
Legendary actions (3)
Only one legendary option can be used at a time and only at the end of another creature's turn. The red greatwyrm regains spent legendary actions at the start of its turn.
Arcane Spear (Costs 3 actions). The greatwyrm creates four spears of magical force. Each spear hits a creature of the greatwyrm's choice it can see within 20 meters of it, dealing 12 (1d8 + 8) force damage to its target, then disappears.
Attack. The greatwyrm makes one Claw or Tail attack.
Detect. The red greatwyrm makes a Perception check.
Mythic actions
If the greatwyrm's Draconic Awakening trait has activated in the last hour, it can use the options below as legendary actions.
Bite. The greatwyrm makes one Bite attack.
Chromatic Flare (Costs 2 actions). The greatwyrm flares with elemental energy. Each creature in a 20-meter-radius sphere centered on the greatwyrm must make a Difficulty 24 Reflex saving throw, taking 2 (5d8) poison damage on a failed save, or half as much damage on a successful one.
Lair actions
On initiative count 20 (losing initiative ties), the red greatwyrm takes a lair action to cause one of the following effects; the same effect can't be used two rounds in a row:
Regional effects
The region containing the red greatwyrm's lair is warped by the red greatwyrm's magic, which creates one or more of the following effects:
Small earthquakes are common within 10 kilometers of the dragon's lair.

Water sources within 2 kilometers of the lair are supernaturally warm and tainted by sulfur.

Rocky fissures within 2 kilometers of the dragon's lair form portals to the Elemental Plane of Fire, allowing creatures of elemental fire into the world to dwell nearby.

Desertification. Precipitation is almost nonexistent within 10 kilometers of the dragon's lair, making the land parched and arid and most plant life withered and brown.

Fiery Senses. The dragon can hear up to 5 meters through any open flame within 1 kilometer of the dragon's lair.

Ominous Flames. Open flames within 10 kilometers of the dragon's lair are tinged dark red, hiss and crackle constantly, and throw off embers and showers of sparks.
If the dragon dies, these effects fade over the course of 1d10 days.
Hill, Mountainftd