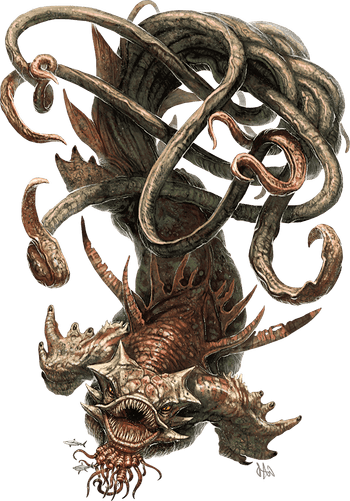 Kraken
Gargantuan beast (titan)
Challenge

23
---
STR

10
DEX

2
CON

7
INT

6
WIS

4
CHA

5
---
27
Soak

4
Fort

+13
Ref

+12
Will

+11
Defense note natural armor
Damage immunities lightning
---
Speed 4 m., swim 10 m.
Senses truesight 20 m.
Languages understands Abyssal, Celestial, Infernal, and Primordial but can't speak, telepathy 20 m.
---
Amphibious. The kraken can breathe air and water.
Freedom of Movement. The kraken ignores difficult terrain, and magical effects can't reduce its speed or cause it to be restrained. It can spend 1 meter of movement to escape from nonmagical restraints or being grappled.
Maneuvers. The kraken uses maneuvers (maneuver save Difficulty 25). It has 22 stamina dice which are d8s, a dice limit of 8, regains all expended stamina dice when it finishes a long rest, and regains half its total stamina dice when it finishes a short rest. It knows the following maneuvers:
At will: grapple (Tentacle only)
1 stamina die: ambush, blind, blood in the water, bonecrush, chain sweep, charge, debilitating crush, disorient, fling, fountain of blood, hamstring, knockback, lead the attack, rampage, smash, spring attack, sprint, stalking shadow, throw, trip
2 stamina dice: frenzy, gag, vengeance
3 stamina dice: battle cry, battle leader
Siege Monster. The kraken deals double damage to objects and structures.
Spellcasting. The kraken uses Primal (cha) to cast spells (spell save Difficulty 20, +11 to hit with spell attacks). It has 11 mana, a mana limit of 4, regains all expended mana when it finishes a long rest, and regains half its total mana when it finishes a short rest. It knows the following spells:
Cantrips (at will, 29th-level spellcaster): hydraulic push, lightning lure, shape water, shock, thunderclap
1 mana: aquatic adaptation, arc lightning, create or purify water, desiccate, ebb and flow, fog cloud, galvanize, levitate, lightning bolt, liquid body, locate water, protection from the storm, rain, slick skin, storm burst, thunder step, thunderwave, tidal break, tidal surge, water jet, water whip, wrath of the storm
2 mana: animate storm, animate water, aqueous form, call lightning, chain lightning, control water, drown, horrid wilting, lightning strike, purify, rolling thunder, shatter, storm bane, storm sphere, tidal wave, wall of water, water walk
3 mana: symbol of stunning, watery sphere
4 mana: maelstrom
Legendary actions (3)
Only one legendary option can be used at a time and only at the end of another creature's turn. The kraken regains spent legendary actions at the start of its turn.
Ink Cloud (Costs 3 actions; Recharges after a Short or Long Rest). While underwater, the kraken expels an ink cloud in a 10-meter radius. The cloud spreads around corners, and that area is heavily obscured to creatures other than the kraken for 1 minute, although a significant current can disperse the ink. After releasing the ink, the kraken can use the Dash action without using an action.
Lightning Storm (Costs 2 actions). The kraken uses Lightning Storm.
Tentacle Attack or Fling. The kraken makes one tentacle attack or uses its Fling.
Lair actions
On initiative count 20 (losing initiative ties), the kraken takes a lair action to cause one of the following effects; the same effect can't be used two rounds in a row:
A strong current moves through the kraken's lair. Each creature within 10 meters of the kraken must succeed on a Difficulty 22 Reflex saving throw or be pushed 10 meters away from the kraken. On a success, the creature is pushed 2 meters away from the kraken.

Creatures in the water within 10 meters of the kraken have vulnerability to lightning damage until initiative count 20 on the next round.

The water in the kraken's lair becomes electrically charged. All creatures within 20 meters of the kraken must succeed on a Difficulty 22 Fortitude saving throw. On a failure, a creature takes 10 (3d6) lightning damage, and it can't take reactions until the start of its next turn. On a success, a creature takes half as much damage.
Regional effects
The region containing the kraken's lair is warped by the kraken's magic, which creates one or more of the following effects:
The kraken can alter the weather at will in a 10-kilometer radius centered on its lair. The effect is identical to the control weather spell.

Water elementals coalesce within 10 kilometers of the lair. These elementals can't leave the water and have Intelligence and Charisma of −5.

Aquatic creatures within 10 kilometers of the lair that have an Intelligence of −4 or lower are charmed by the kraken and aggressive toward intruders in the area.
When the kraken dies, all of these regional effects fade immediately.
Underwatermm