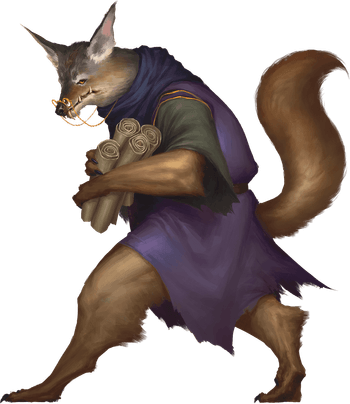 Arcanaloth
Medium fiend (yugoloth)
Challenge

12
---
---
Defense note natural armor
Damage resistances cold, fire, lightning; bludgeoning, piercing, slashing from attacks that aren't silvered
Damage immunities acid, poison
---
Speed 5 m., fly 5 m.
Senses truesight 20 m.
Languages all, telepathy 20 m.
---
Magic Resistance. The arcanaloth has advantage on saving throws against spells and other magical effects.
Magic Weapons. The arcanaloth's weapon attacks are magical.
Spellcasting. The arcanaloth uses Occult (Int) to cast spells (spell save Difficulty 17, +9 to hit with spell attacks). It has 23 mana, a mana limit of 4, regains all expended mana when it finishes a long rest and regains half its total mana (rounded up) when it finishes a short rest. It knows the following spells:
Cantrips (at will, 15th-level spellcaster): blind spot, charm, empathy, lullaby, manipulate sound, mercy, minor illusion, thaumaturgy
1 mana: beguile, blur, charm creature, charming presence, compelled duel, control sound, cutting words, deceive, disguise, false sensory input, friends, hypnotize, illusory script, image, instinctive charm, invisibility, magic mouth, mirror image, mirrored strike, misdirection, pass without trace, phantom steed, silence, sleep
2 mana: calm emotions, catnap, compulsion, damning secret, dark delirium, douse the flames of war, dream, enthrall, hypnotic pattern, illusory dragon, irresistible dance, magic aura, phantasmal force, suggestion
3 mana: create thrall, glibness, mental prison, mirage, project image, symbol of sleep
4 mana: sympathy
Actions (2)
Claws (1/turn). Melee Weapon Attack: +7 to hit, reach 1 m. Hit: 8 (2d4 + 3) slashing damage. The target must make a Difficulty 14 Fortitude saving throw, taking 10 (3d6) poison damage on a failed save, or half as much damage on a successful one.
Teleport (1/turn). The arcanaloth magically teleports, along with any equipment it is wearing or carrying, up to 10 meters to an unoccupied space it can see.
Variant: Summon Yugoloth (1/long rest). The yugoloth attempts a magical summoning.
An arcanaloth has a 40 percent chance of summoning one arcanaloth.
A summoned yugoloth appears in an unoccupied space within 10 meters of its summoner, does as it pleases, and can't summon other yugoloths. The summoned yugoloth remains for 1 minute, until it or its summoner dies, or until its summoner dismiss it on its turn (no action required).
mm
No concoctions, maneuvers, or spells
All creatures in this system should have maneuvers or spells. You should add some maneuvers or spells to this creature. If you do so, please make a suggestion on github so I can finish adding maneuvers and spells to all creatures via https://github.com/mlenser/kryx-rpg-issues/issues/9.