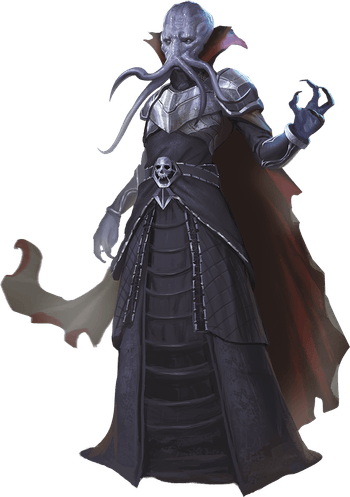 Mind Flayer
Medium aberration
Challenge

7
---
---
Defense note chain hauberk
---
Speed 5 m.
Senses darkvision 20 m.
Languages Aklo, Undercommon, telepathy 20 m.
---
Magic Resistance. The mind flayer has advantage on saving throws against spells and other magical effects.
Psi. The mind flayer uses Psionics (int) to cast spells (spell save Difficulty 15, +6 to hit with spell attacks). It has 27 psi, a mana limit of 3, regains all expended psi when it finishes a long rest, and regains half its total psi when it finishes a short rest.
It knows the following spells, which it can cast by expending 2 psi for each mana that the spell costs:
At will: detect thoughts, levitate
Cantrips (at will, 9th-level spellcaster): distract, message, mind thrust
1 mana: agonizing rebuke, call to mind, confusion, ego whip, haze senses, meld mindcrystal, mind over body, mind spike, mind trap, psychic fortress, sending, sense minds, thought shield, wandering mind
2 mana: co-opt concentration, mind blast, mind control, modify memory, psychic crush, psychic reformation, synaptic static, telepathic bond
3 mana: schism, solicit mindcrystal
1/day: plane shift (self only)
Actions (2)
Tentacles. Melee Weapon Attack: +5 to hit. Hit: 14 (2d10 + 3) psychic damage. If the target is Medium or smaller, it is grappled (escape Difficulty 14) and must succeed on a Difficulty 15 Will saving throw or be stunned until this grapple ends.
Extract Brain (1/turn). Melee Weapon Attack: +5 to hit., one incapacitated humanoid grappled by the mind flayer. Hit: 58 (10d10 + 3) piercing damage. If this damage reduces the target to 0 health, the mind flayer kills the target by extracting and devouring its brain.
Mind Blast (Costs 2 actions; Recharge 5–6). The mind flayer magically emits psychic energy in a 5-meter cone or line. Each creature in that area must succeed on a Difficulty 15 Will saving throw or take 16 (3d10) psychic damage and be stunned for 1 minute. A target can repeat the saving throw at the end of each of its turns, ending the effect on itself on a success.
Far Realm, Underdarkmm