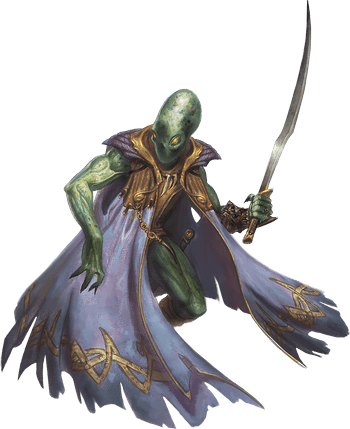 Ultroloth
Medium fiend (yugoloth)
Challenge

13
---
---
Defense note natural armor
Damage resistances cold, fire, lightning; bludgeoning, piercing, slashing from attacks that aren't silvered
Damage immunities acid, poison
---
Speed 5 m., fly 10 m.
Senses truesight 20 m.
Languages Abyssal, Infernal, telepathy 20 m.
---
Actions (4)
Longsword. Melee Weapon Attack: +7 to hit. Hit: 7 (1d8 + 3) slashing damage, or 8 (1d10 + 3) slashing damage if used with two hands, plus 10 (3d6) psychic damage.
Shortsword. Melee Weapon Attack: +7 to hit. Hit: 6 (1d6 + 3) piercing damage plus 10 (3d6) psychic damage.
Hypnotic Gaze (1/turn). The ultroloth's eyes sparkle with opalescent light as it targets one creature it can see within 5 meters of it. If the target can see the ultroloth, the target must succeed on a Difficulty 17 Will saving throw against this magic or be charmed until the end of the ultroloth's next turn. The charmed creature is stunned. If the target's saving throw is successful, the target is immune to the ultroloth's gaze for the next 24 hours.
Summon Yugoloth (1/long rest). The ultroloth has a 50 percent chance of summoning 1d6 mezzoloths, 1d4 nycaloths, or one ultroloth. A summoned yugoloth appears in an unoccupied space within 10 meters of the ultroloth, acts as its ally, and can't summon other yugoloths. It remains for 1 minute, until it or the ultroloth dies, or until the ultroloth dismisses it on its turn (no action required).
Lower planesmm