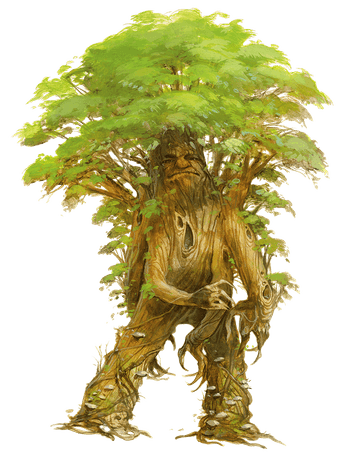 Treant
Huge plant
Challenge

9
---
STR

6
DEX

−1
CON

5
INT

1
WIS

3
CHA

1
---
Defense note natural armor
Damage vulnerabilities fire
Damage resistances bludgeoning, piercing
---
Speed 5 m.
Languages Common, Druidic, Elvish, Sylvan
---
False Appearance. While the treant remains motionless, it is indistinguishable from a normal tree.
Maneuvers. The treant uses maneuvers (maneuver save DC 18). It has 12 stamina dice which are d8s, a dice limit of 3, regains all expended stamina dice when it finishes a long rest, and regains half its total stamina dice when it finishes a short rest. It knows the following maneuvers:
1 stamina die: block blow, bonecrush, covering strike, debilitating crush, disorient, hammer through, hammering blow, knockback, spring attack, sturdy stance
2 stamina dice: tremoring strike
Siege Monster. The treant deals double damage to objects and structures.
Actions (2)
Slam. Melee Weapon Attack: +10 to hit, reach 1 m. Hit: 16 (3d6 + 6) bludgeoning damage.
Rock (1/turn). Melee or Ranged Weapon Attack: +10 to hit (with disadvantage if the target is within 1 meter), reach 1 m. or range 10/100 m. Hit: 28 (4d10 + 6) bludgeoning damage.
Animate Trees (1/long rest). The treant magically animates one or two trees it can see within 10 meters of it. These trees have the same statistics as a treant, except they have Intelligence and Charisma of −5, they can't speak, and they have only the Slam action option. An animated tree acts as an ally of the treant. The tree remains animate for 1 day or until it dies; until the treant dies or is more than 20 meters from the tree; or until the treant turns it back into an inanimate tree which it can do once on its turn. The tree then takes root if possible.