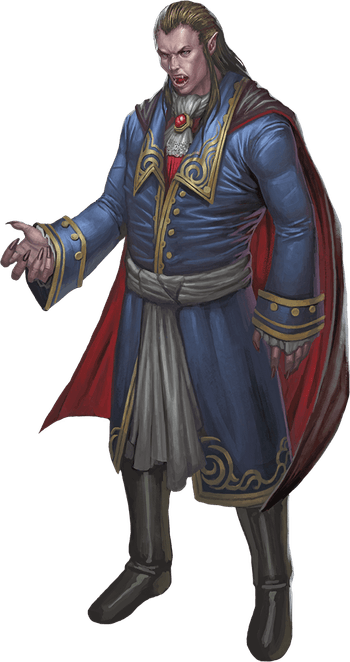 Vampire
Medium undead (shapechanger)
Challenge

13
---
---
Defense note natural armor
Damage resistances necrotic; bludgeoning, piercing, and slashing from attacks that aren't silvered
Damage immunities poison
---
Speed 5 m.
Senses darkvision 20 m.
Languages the languages it knew in life
---
Forbiddance. The vampire can't enter a residence without an invitation from one of the occupants.
Harmed by Running Water. The vampire takes 20 acid damage if it ends its turn in running water.
Legendary Resistance (3/day). If the vampire fails a saving throw, it can choose to succeed instead.
Misty Escape. When it drops to 0 health outside its resting place, the vampire transforms into a cloud of mist (as in the Shapechanger trait) instead of falling unconscious, provided that it isn't in sunlight or running water. If it can't transform, it is destroyed.
While it has 0 health in mist form, it can't revert to its vampire form, and it must reach its resting place within 2 hours or be destroyed. Once in its resting place, it reverts to its vampire form. It is then paralyzed until it regains at least 1 health. After spending 1 hour in its resting place with 0 health, it regains 1 health.
Regeneration. The vampire regains 20 health at the start of each of its turns if it isn't in sunlight or running water. While the vampire is able to regenerate, it does not become wounded or incapacitated as a result of regaining health. If the vampire takes radiant damage, this trait doesn't function at the start of the vampire's next turn. The vampire dies only if it starts its turn with 0 health and doesn't regenerate.
Spellcasting. The vampire uses Occult (cha) to cast spells (spell save Difficulty 17, +8 to hit with spell attacks). It has 24 mana, a mana limit of 4, regains all expended mana when it finishes a long rest, and regains half its total mana when it finishes a short rest. It knows the following spells:
Cantrips (at will, 16th-level spellcaster): blood siphon, crimson blade
1 mana: analyze blood, avasculate, blood armor, blood drain, blood money, blood puppet, blood purge, blood sentinel, blooddrinking weapon, bloodhound, bloodletting strike, charm creature, charming presence, command, friends, hypnotize, instinctive charm, pass without trace, shadow jaunt, shadow veil
2 mana: animate blood, bind blood, blood bond, blood transcription, compulsion, create homunculus, enthrall, leathery wings, suggestion
3 mana: avascular mass
Spider Climb. The vampire can climb difficult surfaces, including upside down on ceilings, without needing to make a skill check.
Stake to the Heart. If a piercing weapon made of wood is driven into the vampire's heart while the vampire is incapacitated in its resting place, the vampire is paralyzed until the stake is removed.
Sunlight Hypersensitivity. The vampire takes 20 radiant damage when it starts its turn in sunlight. While in sunlight, it has disadvantage on skill checks and saving throws.
Legendary actions (3)
Only one legendary option can be used at a time and only at the end of another creature's turn. The vampire regains spent legendary actions at the start of its turn.
Bite (Costs 2 actions). The vampire makes one bite attack.
Move. The vampire moves up to its speed without provoking opportunity attacks.
Unarmed Strike. The vampire makes one unarmed strike.
Regional effects
The region containing the vampire's lair is warped by the vampire's magic, which creates one or more of the following effects:
There's a noticeable increase in the populations of bats, rats, and wolves in the region.

Plants within 200 meters of the lair wither, and their stems and branches become twisted and thorny.

Shadows cast within 200 meters of the lair seem abnormally gaunt and sometimes move as though alive.

A creeping fog clings to the ground within 200 meters of the vampire's la ir. The fog occasionally takes eerie forms, such as grasping claws and writhing serpents.
If the vampire is destroyed, these effects end after 2d6 days.
Urbanmm