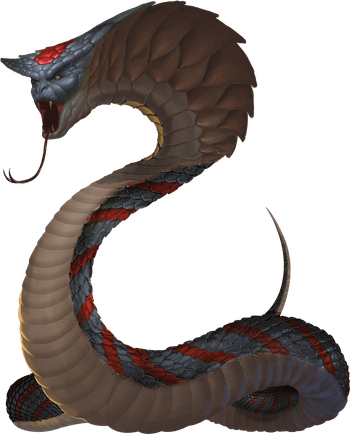 Spirit Naga
Large monstrosity
Challenge

8
---
---
Defense note natural armor
Damage immunities poison
Condition immunities charmed, poisoned
---
Speed 8 m.
Skills Divinity +5 (16), Insight +2 (13), Perception +2 (13)
Senses darkvision 10 m.
Languages Abyssal, Common
---
Rejuvenation. If it dies, the naga returns to life in 1d6 days and regains all its health. Only a wish spell can prevent this trait from functioning.
Spellcasting. The spirit naga uses Divinity (Int) to cast spells (spell save DC 14, +6 to hit with spell attacks). It has 15 mana, a mana limit of 3, regains all expended mana when it finishes a long rest and regains half its total mana (rounded up) when it finishes a short rest. It knows the following spells:
Cantrips (at will, 10th-level spellcaster): frostbite, minor illusion, snowball/icicle
1 mana: aquatic adaptation, blight, charm creature, detect magic, lightning bolt, sleep, teleport
2 mana: detect thoughts, mind control, stasis
Actions (2)
Bite. Melee Weapon Attack: +7 to hit, reach 2 m. Hit: 7 (1d6 + 4) piercing damage, and the target must make a DC 13 Fortitude saving throw, taking 18 (4d8) poison damage on a failed save, or half as much damage on a successful one.
No concoctions, maneuvers, or spells
All creatures in this system should have maneuvers or spells. You should add some maneuvers or spells to this creature. If you do so, please make a suggestion on github so I can finish adding maneuvers and spells to all creatures via https://github.com/mlenser/kryx-rpg-issues/issues/9