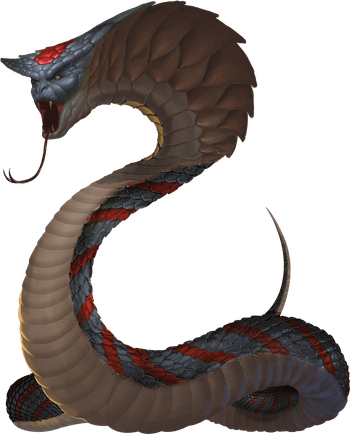 Spirit Naga
Large beast
Challenge

8
---
---
Defense note natural armor
Damage immunities poison
---
Speed 8 m.
Senses darkvision 10 m.
Languages Abyssal, Common
---
Rejuvenation. If it dies, the spirit naga returns to life in 1d6 days and regains all its health. Only a miracle or wish spell can prevent this trait from functioning.
Spellcasting. The spirit naga uses Divinity (int) to cast spells (spell save Difficulty 14, +5 to hit with spell attacks). It has 15 mana, a mana limit of 3, regains all expended mana when it finishes a long rest, and regains half its total mana when it finishes a short rest. It knows the following spells:
Cantrips (at will, 10th-level spellcaster): ghostly spirit, soul sap, thaumaturgy
1 mana: absorb spirit, ancestral blessing, bind soul, charm creature, consult the spirits, find familiar, hypnotize, spirit drain
2 mana: faithful hound, mind control, possess, reincarnate, speak with spirits, spectral form, spirit guardians, spiritual impressions, stasis, vengeful spirit, walking hut, wrath of nature
3 mana: beseech familiar, contact spirits, grove, soul cage
Actions (2)
Bite. Melee Weapon Attack: +6 to hit, reach 2 m. Hit: 7 (1d6 + 4) piercing damage plus 13 (3d8) poison damage.