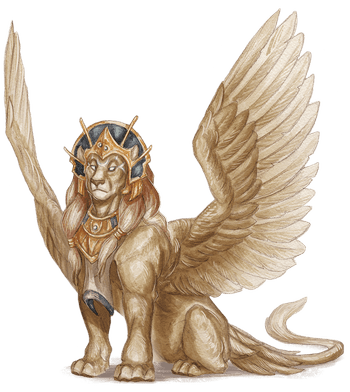 Gynosphinx
Large beast
Challenge

11
---
---
Defense note natural armor
Damage resistances bludgeoning, piercing, and slashing from nonmagical attacks
Damage immunities psychic
---
Speed 8 m., fly 10 m.
Senses truesight 20 m.
Languages Common, Sphinx
---
Actions (2)
Claw. Melee Weapon Attack: +7 to hit. Hit: 13 (2d8 + 4) slashing damage.
Legendary actions (3)
Only one legendary option can be used at a time and only at the end of another creature's turn. The gynosphinx regains spent legendary actions at the start of its turn.
Cast a Spell (Costs 3 actions). The sphinx casts a spell, using mana as normal.
Claw Attack. The sphinx makes one claw attack.
Teleport (Costs 2 actions; 1/long rest). The gynosphinx magically teleports itself and up to three willing creatures it can see within 1 meter of it, along with any equipment they are wearing or carrying, to a location the gynosphinx is familiar with, up to 2 kilometers away.
Lair actions
On initiative count 20 (losing initiative ties), the gynosphinx takes a lair action to cause one of the following effects; the same effect can't be used two rounds in a row:
The flow of time is altered such that every creature in the lair must reroll initiative. The sphinx can choose not to reroll.

The effects of time are altered such that every creature in the lair must succeed on a Difficulty 16 Fortitude saving throw or become 3d6 years older or younger (the sphinx's choice), but never any younger than 1 year old. A restoration spell augmented to greater restoration can restore a creature's age to normal.

The flow of time within the lair is altered such that everything within moves up to 10 years forward or backward (sphinx's choice). Only the sphinx is immediately aware of the time change. A miracle or wish spell can return the caster and up to seven other creatures designated by the caster to their normal time.

The sphinx shifts itself and up to seven other creatures it can see within in its lair to another plane of existence. Once outside its lair, the sphinx can't use lair actions, but it can return to its lair as an action on its turn, taking up to seven creatures with it.
Desertmm