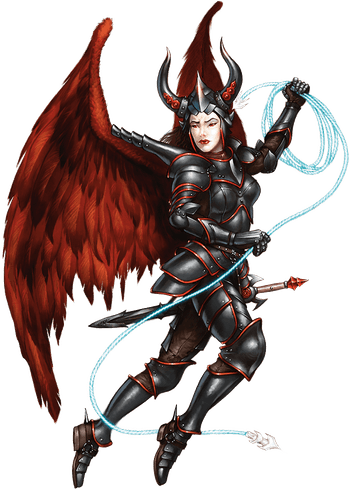 Erinyes
Medium fiend (devil)
Challenge

12
---
---
Defense note plate
Damage resistances cold; bludgeoning, piercing, and slashing from attacks that aren't silvered
Damage immunities fire, poison
---
Speed 5 m., fly 10 m.
Senses truesight 20 m.
Languages Infernal, telepathy 20 m.
---
Hellish Weapons. The erinyes's weapon attacks are magical and deal an extra 13 (3d8) poison damage on a hit (included in the attacks).
Magic Resistance. The erinyes has advantage on saving throws against spells and other magical effects.
Actions (3)
Longsword. Melee Weapon Attack: +8 to hit, reach 1 m. Hit: 8 (1d8 + 4) slashing damage, or 9 (1d10 + 4) slashing damage if used with two hands, plus 13 (3d8) poison damage.
Shortsword. Melee Weapon Attack: +8 to hit, reach 1 m. Hit: 7 (1d6 + 4) piercing damage plus 13 (3d8) poison damage.
Longbow. Ranged Weapon Attack: +7 to hit, range 20/200 m. Hit: 7 (1d8 + 3) piercing damage plus 13 (3d8) poison damage, and the target must succeed on a Difficulty 14 Fortitude saving throw or be poisoned. The poison lasts until it is removed by the restoration spell or similar magic.
Variant: Rope of Entanglement. Some erinyes carry a rope of entanglement (detailed in the Dungeon Master's Guide). Such an erinyes can use the rope in place of two actions.
Variant: Summon Devil (1/long rest). The erinyes has a 50 percent chance of summoning 3d6 spined devils, 1d6 bearded devils, or one erinyes. A summoned devil appears in an unoccupied space within 10 meters of its summoner, acts as an ally of its summoner, and can't summon other devils. It remains for 1 minute, until it or its summoner dies, or until its summoner dismisses it on its turn (no action required).
Reactions
Parry. The erinyes adds 4 to its Defense against one melee attack that would hit it. To do so, the erinyes must see the attacker and be wielding a melee weapon.
No concoctions, maneuvers, or spells
All creatures in this system should have maneuvers or spells. You should add some maneuvers or spells to this creature. If you do so, please make a suggestion on github so I can finish adding maneuvers and spells to all creatures via https://github.com/mlenser/kryx-rpg-issues/issues/9.