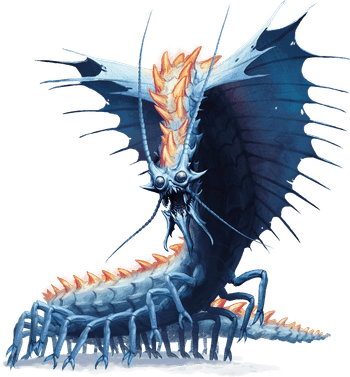 Young Remorhaz
Large beast
Challenge
---
STR

4
DEX

1
CON

3
INT

−4
WIS

0
CHA

−3
---
Defense note natural armor
Damage immunities cold, fire
Condition immunities burning
---
Speed 5 m., burrow 4 m.
Skills Athletics +6 (17), Brawn +6 (17), Primal +2 (13)
Senses darkvision 10 m., tremorsense 10 m.
---
Heated Body. A creature that touches the young remorhaz or hits it or misses it by 4 or less with a melee attack while within 1 meter of it takes 7 (2d6) fire damage.
Spellcasting. The young remorhaz uses Primal (wis) to cast spells (spell save Difficulty 11, +2 to hit with spell attacks). It has 5 mana, a mana limit of 1, regains all expended mana when it finishes a long rest, and regains half its total mana when it finishes a short rest. It knows the following spells:
Cantrips (at will, 6th-level spellcaster): burn, cauterize wound, control flames, produce flame
1 mana: ash fall, burning hands, continual flame, fiery rebuke, flaming weapon, immolation, protection from fire, pyrotechnics, rising phoenix, scorching bolts, searing burst, searing strike
Actions (1)
Bite. Melee Weapon Attack: +6 to hit. Hit: 20 (3d10 + 4) piercing damage plus 7 (2d6) fire damage.
Arcticmm