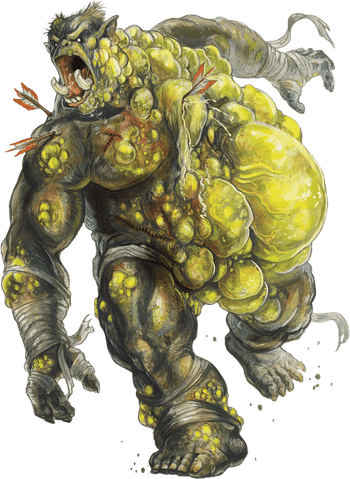 Orc Hand of Yurtrus
Medium humanoid (orc)
Challenge

2
---
STR

1
DEX

0
CON

3
INT

0
WIS

2
CHA

−1
---
---
Speed 5 m.
Senses darkvision 10 m.
Languages understands Common and Orc but can't speak
---
Blood Fury (Recharges after a Short or Long Rest). On its turn, the orc can unleash the orcish fury coursing through its veins. Once on each of its turns while seething with fury, it can add its proficiency bonus to the damage when it damages a creature with an attack or a spell that targets only one creature.
Its fury lasts for 1 minute or until it is unconscious or dies.
Relentless Endurance (Recharges after a Short or Long Rest). If the orc is reduced to 0 health but not killed outright, it can drop to 1 health instead.
Spellcasting. The orc hand of yurtrus uses Divinity (Wis) to cast spells (spell save Difficulty 12, +4 to hit with spell attacks). It has 5 mana, a mana limit of 1, regains all expended mana when it finishes a long rest and regains half its total mana (rounded up) when it finishes a short rest. It knows the following spells:
Cantrips (at will): death blade, infestation, scythe, toll the dead
1 mana: blight, crippling pain, dampen pain, detect death, detect disease, inflict wounds, path to the grave, ravage, ray of enfeeblement
Actions
Touch of the White Hand. Melee Weapon Attack: +3 to hit, reach 1 m. Hit: 10 (2d8 + 1) necrotic damage.
Forest, Grassland, Hill, Mountain, Underdarkvgtm
No concoctions, maneuvers, or spells
All creatures in this system should have maneuvers or spells. You should add some maneuvers or spells to this creature. If you do so, please make a suggestion on github so I can finish adding maneuvers and spells to all creatures via https://github.com/mlenser/kryx-rpg-issues/issues/9.