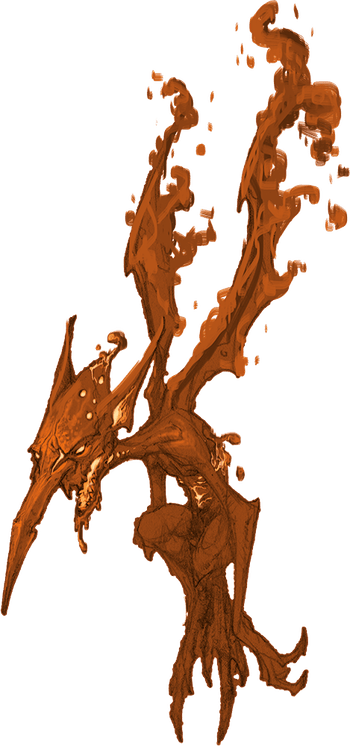 Magma Mephit
Small elemental
Challenge

½
---
STR

−1
DEX

1
CON

1
INT

−2
WIS

0
CHA

0
---
Damage vulnerabilities cold
Damage immunities fire, poison
---
Speed 5 m., fly 5 m.
Senses darkvision 10 m.
Languages Ignan, Terran
---
Death Burst. When the magma mephit dies, it explodes in a burst of magma. Each creature within 1 meter of it must make a Difficulty 11 Reflex saving throw. On a failure, a creature takes 22 (5d8) fire damage and is burning 1. On a success, a creature takes half as much damage and isn't burning. Flammable objects that aren't being worn or carried in that area are ignited.
False Appearance. While the magma mephit remains motionless, it is indistinguishable from an ordinary mound of magma.
Spellcasting. The magma mephit uses Primal (cha) to cast spells (spell save Difficulty 10, +1 to hit with spell attacks). It has 1 mana, a mana limit of 1, regains all expended mana when it finishes a long rest, and regains half its total mana when it finishes a short rest. It knows the following spells:
Cantrips (at will): burn, cauterize wound, control flames, produce flame
1 mana: ash fall, burning hands, continual flame, fiery rebuke, flaming weapon, immolation, protection from fire, pyrotechnics, rising phoenix, scorching bolts, searing burst, searing strike
Actions (1)
Claws. Melee Weapon Attack: +2 to hit. Hit: 3 (1d4 + 1) slashing damage plus 2 (1d4) fire damage.
Summon Mephits (1/long rest). The magma mephit has a 25 percent chance of summoning 1d4 mephits of its kind. A summoned mephit appears in an unoccupied space within 10 meters of the magma mephit, acts as its ally, and can't summon other mephits. It remains for 1 minute, until it or the magma mephit dies, or until the magma mephit dismisses it on its turn (no action required).
Elemental planes, Underdarksrd