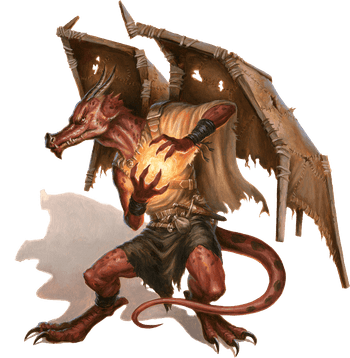 Kobold Scale Sorcerer
Small humanoid (kobold)
Challenge

1
---
STR

−2
DEX

2
CON

2
INT

0
WIS

−1
CHA

2
---
Defense note natural armor
Damage resistances fire
---
Speed 5 m.
Senses darkvision 10 m.
Languages Common, Draconic
---
Pack Tactics. The kobold scale sorcerer has advantage on an attack roll against a creature if at least one of the kobold scale sorcerer's allies is within 1 meter of the creature and the ally isn't incapacitated.
Spellcasting. The kobold scale sorcerer uses Primal (Cha) to cast spells (spell save Difficulty 12, +3 to hit with spell attacks). It has 2 mana, a mana limit of 1, regains all expended mana when it finishes a long rest, and regains half its total mana when it finishes a short rest. It knows the following spells:
Cantrips (at will): cauterize wound, control flames, produce flame
1 mana: ash fall, burning hands, continual flame, fiery rebuke, flaming weapon, immolation, protection from fire, pyrotechnics, rising phoenix, scorching bolts, searing burst, searing strike
Sunlight Sensitivity. While in sunlight, the kobold scale sorcerer has disadvantage on attack rolls, as well as on Perception checks that rely on sight.
Actions (1)
Dagger. Melee or Ranged Weapon Attack: +3 to hit, reach 1 m. or range 3/10 m. Hit: 4 (1d4 + 2) piercing damage.
Forest, Hill, Mountain, Underdark, Urbanvgtm