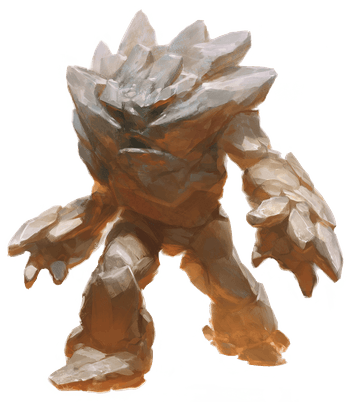 Small Earth Elemental
Small elemental
Challenge

½
---
STR

2
DEX

−1
CON

3
INT

−3
WIS

−1
CHA

0
---
Defense note natural armor
Damage vulnerabilities concussion
Damage resistances bludgeoning, piercing, and slashing from attacks that aren't adamantine
Damage immunities poison
---
Speed 4 m., burrow 3m.
Senses darkvision 10 m., tremorsense 10 m.
Languages Terran
---
Earth Glide. The elemental can burrow through nonmagical, unworked earth and stone. While doing so, the elemental doesn't disturb the material it moves through.
Maneuvers. The small earth elemental uses maneuvers (maneuver save Difficulty 12). It has 1 stamina die which is a d8 and regains its stamina die when it finishes a short or long rest. It knows the following maneuvers:
1 stamina die: bonecrush, debilitating crush, disorient, hammer spin, hammer through, hammering blow, knockback, rolling stone, smash, spring attack, sturdy stance
Siege Monster. The elemental deals double damage to objects and structures.
Spellcasting. The small earth elemental uses Primal (Cha) to cast spells (spell save Difficulty 10, +2 to hit with spell attacks). It has 1 mana, a mana limit of 1, regains all expended mana when it finishes a long rest and regains half its total mana (rounded up) when it finishes a short rest. It knows the following spells:
Cantrips (at will): earthen hide, ferrous growth, mold earth, stonefist
1 mana: avalanche, bones of the earth, earthbind, earthen bulwark, hurl boulder, orbital stones, rock armor, stalagmite, tremor
Actions
Slam. Melee Weapon Attack: +4 to hit, reach 1 m. Hit: 4 (1d4 + 2) bludgeoning damage.