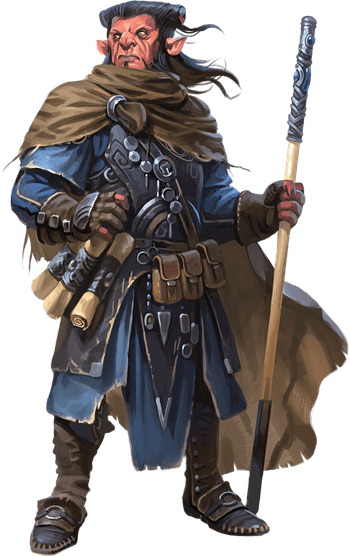 Hobgoblin Devastator
Medium humanoid (goblinoid)
Challenge

4
---
---
---
Speed 5 m.
Senses darkvision 10 m.
Languages Common, Goblin
---
Arcane Advantage. Once on its turn, the hobgoblin can deal an extra 7 (2d6) damage to a creature it hits with a damaging spell attack if that target is within 1 meter of an ally of the hobgoblin and that ally isn't incapacitated.
Army Arcana. When the hobgoblin casts a spell that causes damage or that forces other creatures to make a saving throw, it can choose itself and any number of allies to be immune to the damage caused by the spell and to succeed on the required saving throw.
Spellcasting. The hobgoblin devastator uses Primal (Int) to cast spells (spell save Difficulty 13, +5 to hit with spell attacks). It has 8 mana, a mana limit of 2, regains all expended mana when it finishes a long rest and regains half its total mana when it finishes a short rest. It knows the following spells:
Cantrips (at will, 5th-level spellcaster): cauterize wound, control flames, corrode, produce flame
1 mana: acid arrow, acidic spray, ash fall, [burning hands](/spells/burning-hands), corrosive consumption, fiery rebuke, immolation, scorching bolts
2 mana: acid fog, corrosive bane, fireball, flame bane, flaming sphere, incendiary cloud, molten upheaval, vitriolic sphere, wall of fire
Actions
Quarterstaff. Melee Weapon Attack: +3 to hit, reach 1 m. Hit: 5 (1d8 + 1) bludgeoning damage.
Forest, Grassland, Hillvgtm
No concoctions, maneuvers, or spells
All creatures in this system should have maneuvers or spells. You should add some maneuvers or spells to this creature. If you do so, please make a suggestion on github so I can finish adding maneuvers and spells to all creatures via https://github.com/mlenser/kryx-rpg-issues/issues/9.