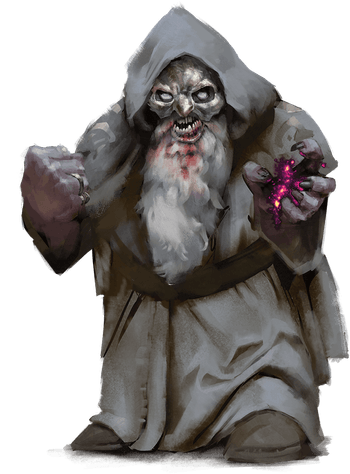 Duergar Mind Master
Medium humanoid (duergar)
Challenge

2
---
---
Defense note leather
Damage resistances poison
---
Speed 4 m.
Senses darkvision 20 m., truesight 5 m.
Languages Dwarven, Undercommon
---
Duergar Resilience. The duergar mind master has advantage on all Will saving throws against magic.
Psi. The duergar mind master uses Psionics (wis) to cast spells (spell save Difficulty 12, +3 to hit with spell attacks). It has 5 psi, a mana limit of 1, regains all expended psi when it finishes a long rest, and regains half its total psi when it finishes a short rest.
It knows the following spells, which it can cast by expending 2 psi for each mana that the spell costs:
Cantrips (at will): distract, message, mind thrust
1 mana: agonizing rebuke, call to mind, confusion, ego whip, haze senses, meld mindcrystal, mind over body, mind spike, mind trap, psychic fortress, sending, sense minds, thought shield, wandering mind
1/rest each: enlarge/reduce (self only), invisibility (self only)
Sunlight Sensitivity. While in sunlight, the duergar mind master has disadvantage on attacks, as well as on Perception checks that rely on sight.
Actions (2)
Mind-Poison Dagger. Melee or Ranged Weapon Attack: +4 to hit, reach 1 m. or range 3/10 m. Hit: 5 (1d4 + 3) piercing damage plus 10 (3d6) psychic damage.
Mind Mastery (1/turn). The duergar mind master targets one creature it can see within 10 meters of it. The target must succeed on a Difficulty 12 Will saving throw, or the duergar mind master causes it to use its reaction either to make one weapon attack against another creature the duergar mind master can see or to move up to 2 meters in a direction of the duergar mind master's choice. Creatures that can't be charmed are immune to this effect.
Mountain, Underdarkmtof