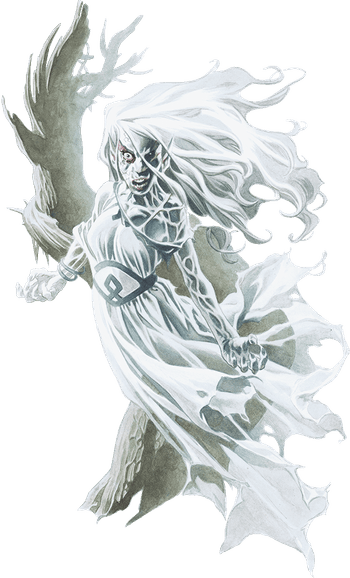 Banshee
Medium undead
Challenge

4
---
STR

−5
DEX

2
CON

0
INT

1
WIS

0
CHA

3
---
Damage resistances acid, concussion, fire, lightning; bludgeoning, piercing, and slashing from nonmagical attacks
Damage immunities cold, necrotic, poison
Condition immunities burning, charmed, diseased, exhausted, frightened, grappled, paralyzed, petrified, poisoned, prone, restrained
---
Speed 0 m., fly 8 m. (hover)
Skills Divinity +2 (13), Insight +0 (11), Perception +0 (11)
Senses darkvision 10 m.
Languages Common, Elvish
---
Detect Life. The banshee can magically sense the presence of living creatures up to 10 kilometers away. She knows the general direction they're in but not their exact locations.
Incorporeal Movement. The banshee can move through other creatures and objects as if they were difficult terrain. She takes 5 (1d10) force damage if she ends her turn inside an object.
Actions
Corrupting Touch. Melee Weapon Attack: +4 to hit, reach 1 m. Hit: 12 (3d6 + 2) necrotic damage.
Wail (1/long rest). The banshee releases a mournful wail, provided that she isn't in sunlight. This wail has no effect on constructs and undead. All other creatures within 5 meters of her that can hear her must make a DC 13 Fortitude saving throw. On a failure, a creature drops to 0 health. On a success, a creature takes 10 (3d6) psychic damage.
Coastal, Forestmm
No concoctions, maneuvers, or spells
All creatures in this system should have maneuvers or spells. You should add some maneuvers or spells to this creature. If you do so, please make a suggestion on github so I can finish adding maneuvers and spells to all creatures via https://github.com/mlenser/kryx-rpg-issues/issues/9