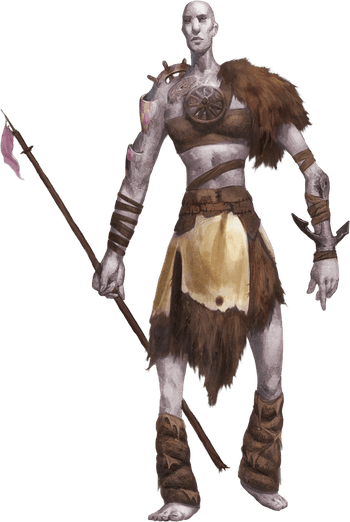 Stone Giant Dreamwalker
Huge giant (stone giant)
Challenge

10
---
STR

6
DEX

2
CON

5
INT

0
WIS

−1
CHA

1
---
Defense note natural armor
---
Speed 8 m.
Senses low-light vision, darkvision 10 m.
Languages Common, Jotun
---
Dreamwalker's Charm. An enemy that starts its turn within 5 meters of the stone giant dreamwalker must make a Difficulty 13 Will saving throw, provided that the stone giant dreamwalker isn't incapacitated. On a failure, the creature is charmed by the stone giant dreamwalker. A creature charmed in this way can repeat the saving throw at the end of each of its turns, ending the effect on itself on a success. Once it succeeds on the saving throw, the creature is immune to the stone giant dreamwalker's Dreamwalker's Charm for 24 hours.
Maneuvers. The stone giant dreamwalker uses maneuvers (maneuver save Difficulty 18). It has 20 stamina dice which are d8s, a dice limit of 4, regains all expended stamina dice when it finishes a long rest, and regains half its total stamina dice when it finishes a short rest. It knows the following maneuvers:
1 stamina die: debilitating crush, disorient, distant shot, hammer spin, hammer through, hammering blow, knockback, nimble, spring attack
2 stamina dice: tremoring strike, uncanny dodge
Actions (2)
Greatclub. Melee Weapon Attack: +9 to hit, reach 2 m. Hit: 19 (3d8 + 6) bludgeoning damage.
Club. Melee Weapon Attack: +9 to hit, reach 2 m. Hit: 13 (3d4 + 6) bludgeoning damage.
Petrifying Touch (1/turn). The stone giant dreamwalker touches one Medium or smaller creature within 2 meters of it that is charmed by it. The target must make a Difficulty 17 Fortitude saving throw. On a failure, the target becomes petrified, and the stone giant dreamwalker can adhere the target to its stony body. Restoration augmented to greater restoration and other magic that can undo petrification have no effect on a petrified creature on the stone giant dreamwalker unless the stone giant dreamwalker is dead, in which case the magic works normally, freeing the petrified creature as well as ending the petrified condition on it.
Coastal, Hill, Mountainvgtm