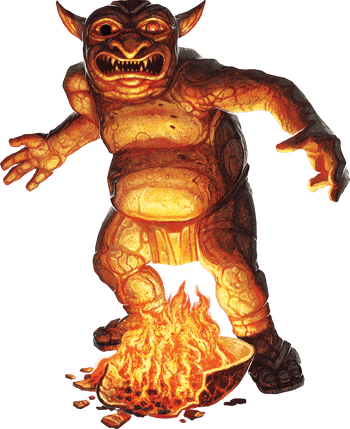 Sacred Statue
Large construct
Challenge

12
---
STR

4
DEX

−1
CON

4
INT

2
WIS

4
CHA

3
---
Defense note natural armor
Damage vulnerabilities concussion
Damage resistances acid, fire, lightning; bludgeoning, piercing, and slashing from attacks that aren't adamantine
Damage immunities cold, necrotic, poison
---
Speed 5 m.
Senses darkvision 10 m.
Languages the languages the eidolon knew in life
---
False Appearance. While the statue remains motionless, it is indistinguishable from a normal statue.
Ghostly Inhabitant. The eidolon that enters the sacred statue remains inside it until the statue drops to 0 health, the eidolon moves out of the statue, or the eidolon is turned or forced out by an effect such as the dispel evil and good spell. When the eidolon leaves the statue, it appears in an unoccupied space within 1 meter of the statue.
Inert. When not inhabited by an eidolon, the statue is an object.
Actions (2)
Slam. Melee Weapon Attack: +8 to hit, reach 2 m. Hit: 43 (6d12 + 4) bludgeoning damage.
Rock (1/turn). Melee or Ranged Weapon Attack: +8 to hit (with disadvantage if the target is within 1 meter), reach 1 m. or range 10/100 m. Hit: 37 (6d10 + 4) bludgeoning damage.
mtof