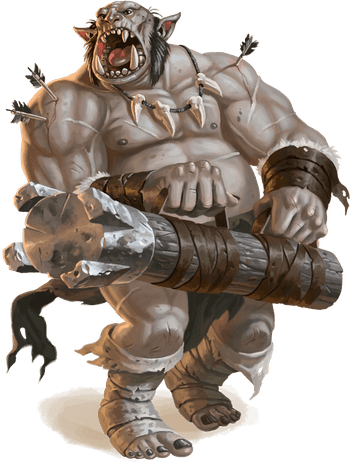 Ogre Battering Ram
Large giant
Challenge

4
---
STR

4
DEX

−1
CON

3
INT

−3
WIS

−2
CHA

−2
---
Defense note chain hauberk
---
Speed 8 m.
Senses low-light vision, darkvision 10 m.
Languages Common, Jotun
---
Maneuvers. The ogre battering ram uses maneuvers (maneuver save DC 14). It has 11 stamina dice which are d8s, a dice limit of 2, regains all expended stamina dice when it finishes a long rest, and regains half its total stamina dice (rounded up) when it finishes a short rest. It knows the following maneuvers:
1 stamina die: bonecrush, debilitating crush, disorient, hammer spin, hammer through, hammering blow, knockback, rolling stone, smash, spring attack, sturdy stance
2 stamina dice: stone bones, tremoring strike
Siege Monster. The ogre deals double damage to objects and structures.
Actions
Bash. Melee Weapon Attack: +6 to hit, reach 1 m. Hit: 15 (2d10 + 4) bludgeoning damage, and the ogre can push the target 1 meter away if the target is Huge or smaller.
Block the Path. Until the start of the ogre's next turn, attack rolls against the ogre have disadvantage, it has advantage on the attack roll it makes for an opportunity attack, and that attack deals an extra 16 (3d10) bludgeoning damage on a hit. Also, each enemy that tries to move out of the ogre's reach without teleporting must succeed on a DC 14 Reflex saving throw or have its speed reduced to 0 until the start of the ogre's next turn.
Grassland, Hill, Mountainmtof