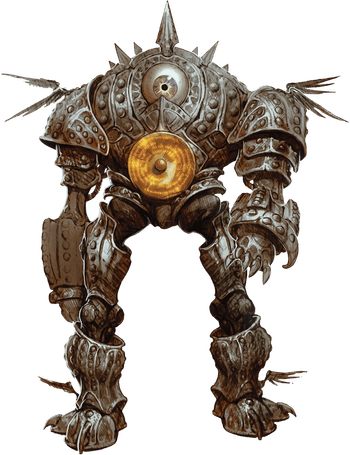 Marut
Large construct (inevitable)
Challenge

25
---
---
27
Soak

4
Fort

+15
Ref

+12
Will

+11
Defense note natural armor
Damage resistances concussion; bludgeoning, piercing, and slashing from attacks that aren't adamantine
Damage immunities poison
---
Speed 8 m., fly 5 m. (hover)
Senses darkvision 10 m.
Languages all but rarely speaks
---
Immutable Form. The marut is immune to any spell or effect that would alter its form.
Legendary Resistance (3/day). If the marut fails a saving throw, it can choose to succeed instead.
Magic Resistance. The marut has advantage on saving throws against spells and other magical effects.
Magic Weapons. The marut's weapon attacks are magical.
Maneuvers. The marut uses maneuvers (maneuver save Difficulty 25). It has 47 stamina dice which are d8s, a dice limit of 8, regains all expended stamina dice when it finishes a long rest, and regains half its total stamina dice when it finishes a short rest. It knows the following maneuvers:
1 stamina die: bonecrush, debilitating crush, disorient, dive attack, hammer through, hammering blow, knockback, spring attack
2 stamina dice: tremoring strike
Spellcasting. The marut uses Arcana (int) to cast spells (spell save Difficulty 20, +11 to hit with spell attacks). It can cast the following spells:
At will: plane shift (self only)
Actions (3)
Slam. Melee Weapon Attack: +16 to hit. Hit: 47 (7d10 + 9) bludgeoning damage and the target is pushed 1 meter away from the marut if it is Huge or smaller.
Blazing Edict (Recharge 5–6). Arcane energy emanates from the marut's chest in a 7-meter radius. Every creature in that area takes 50 radiant damage. Each creature that takes any of this damage must succeed on a Difficulty 20 Will saving throw or be stunned until the end of the marut's next turn.
Justify (1/turn). The marut targets up to two creatures it can see within 10 meters of it. Each target must succeed on a Difficulty 20 Will saving throw or be teleported to a teleportation circle in the Hall of Concordance in Sigil. A target fails automatically if it is incapacitated. If either target is teleported in this way, the marut teleports with it to the circle.
After teleporting in this way, the marut can't use this action again until it finishes a short or long rest.
Astral Planemtof
Spells
As two actions, you are transported to a different plane of existence. You can specify a target destination in general terms, such as the City of Brass on the Elemental Plane of Fire or the palace of Dispater on the second level of the Nine Hells, and you appear in or near that destination. If you are trying to reach the City of Brass, for example, you might arrive in its Street of Steel, before its Gate of Ashes, or looking at the city from across the Sea of Fire, at the GM's discretion.
Alternatively, if you know the sigil sequence of a teleportation circle on another plane of existence, this spell can take you to that circle. If the teleportation circle is too small to hold all the creatures you transported, they appear in the closest unoccupied spaces next to the circle.
Augment
You can transport five additional willing creatures for each additional mana expended. The creatures must link hands with you in a circle.