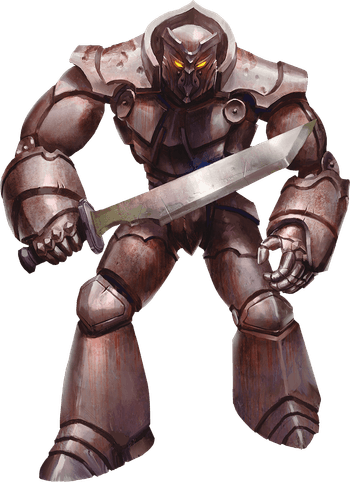 Iron Golem
Large construct
Challenge

16
---
STR

7
DEX

−1
CON

5
INT

−4
WIS

0
CHA

−5
---
23
Soak

4
Fort

+10
Ref

+8
Will

+0
Defense note natural armor
Damage immunities fire, poison, psychic; bludgeoning, piercing, and slashing from attacks that aren't adamantine
---
Speed 5 m.
Senses darkvision 20 m.
Languages understands the languages of its creator but can't speak
---
Fire Absorption. Whenever the golem is subjected to fire damage, it takes no damage and instead regains an amount of health equal to the fire damage dealt.
Immutable Form. The golem is immune to any spell or effect that would alter its form.
Magic Resistance. The golem has advantage on saving throws against spells and other magical effects.
Magic Weapons. The golem's weapon attacks are magical.
Maneuvers. The iron golem uses maneuvers (maneuver save Difficulty 20). It has 45 stamina dice which are d8s, a dice limit of 5, regains all expended stamina dice when it finishes a long rest, and regains half its total stamina dice (rounded up) when it finishes a short rest. It knows the following maneuvers:
1 stamina die: bonecrush, debilitating crush, disorient, hammer through, hammering blow, hamstring, knockback, parry, slice through, spring attack, trip, whirling blade
2 stamina dice: tremoring strike
Actions (2)
Slam. Melee Weapon Attack: +12 to hit, reach 1 m. Hit: 20 (3d8 + 7) bludgeoning damage.
Sword. Melee Weapon Attack: +12 to hit, reach 2 m. Hit: 20 (3d8 + 7) slashing damage, or 23 (3d10 + 7) slashing damage if used with two hands.
Poison Breath (Costs 2 actions; Recharge 5–6). The golem exhales poisonous gas in a 5-meter cone or line. Each creature in that area must make a Difficulty 18 Fortitude saving throw, taking 45 (10d8) poison damage on a failed save, or half as much damage on a successful one.