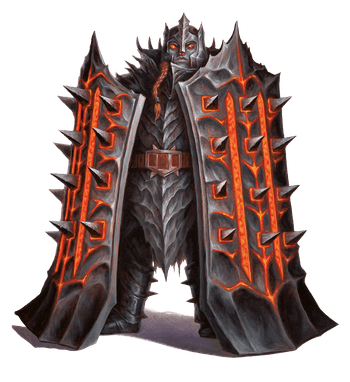 Fire Giant Dreadnought
Huge giant (fire giant)
Challenge

14
---
STR

8
DEX

0
CON

6
INT

−1
WIS

0
CHA

0
---
24
Soak

3
Fort

+11
Ref

+9
Will

+5
Defense note plate, shield
Damage immunities fire
---
Speed 5 m.
Senses low-light vision
Languages Jotun
---
Dual Shields. The giant carries two shields, each of which is accounted for in the giant's Defense. The giant must stow or drop one of its shields to hurl rocks.
Maneuvers. The fire giant dreadnought uses maneuvers (maneuver save Difficulty 21). It has 41 stamina dice which are d8s, a dice limit of 5, regains all expended stamina dice when it finishes a long rest, and regains half its total stamina dice (rounded up) when it finishes a short rest. It knows the following maneuvers:
1 stamina die: block blow, coordinated movement, covering strike, disorient, goading strike, grapple, lead the attack, sacrifice, shield bash, spring attack, unwavering mark
2 stamina dice: disarm, vengeance
5 stamina dice: clarion call
Actions (2)
Fireshield. Melee Weapon Attack: +13 to hit, reach 1 m. Hit: 29 (6d6 + 8) bludgeoning damage plus 7 (2d6) fire damage.
Rock (1/turn). Melee or Ranged Weapon Attack: +13 to hit (with disadvantage if the target is within 1 meter), reach 1 m. or range 10/100 m. Hit: 30 (4d10 + 8) bludgeoning damage.
Shield Charge (1/turn). The giant moves up to 5 meters in a straight line and can move through the space of any creature smaller than Huge. The first time it enters a creature's space during this move, it makes a fireshield attack against that creature. If the attack hits, the target must also succeed on a Difficulty 21 Reflex saving throw or be pushed ahead of the giant for the rest of this move. If a creature fails the save by 5 or more, it is also knocked prone and takes 18 (3d6 + 8) bludgeoning damage, or 29 (6d6 + 8) bludgeoning damage if it was already prone.
Mountain, Underdarkvgtm