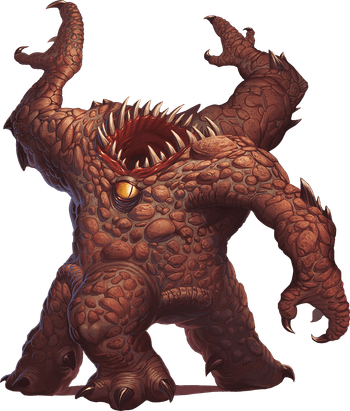 Xorn
Medium elemental
Challenge

5
---
---
Defense note natural armor
Damage resistances piercing and slashing from attacks that aren't adamantine
---
Speed 4 m., burrow 4 m.
Senses darkvision 10 m., tremorsense 10 m.
Languages Terran
---
Earth Glide. The xorn can burrow through nonmagical, unworked earth and stone. While doing so, the xorn doesn't disturb the material it moves through.
Maneuvers. The xorn uses maneuvers (maneuver save Difficulty 14). It has 9 stamina dice which are d8s, a dice limit of 2, regains all expended stamina dice when it finishes a long rest, and regains half its total stamina dice when it finishes a short rest. It knows the following maneuvers:
1 stamina die: ambush, fling, grapple, grievous wound, spring attack, swipe, tear flesh, trip
2 stamina dice: retaliate, tear tendon
Stone Camouflage. The xorn has advantage on Stealth checks made to avoid notice in rocky terrain.
Treasure Sense. The xorn can pinpoint, by scent, the location of precious metals and stones, such as coins and gems, within 10 meters of it.
Actions (4)
Bite (1/turn). Melee Weapon Attack: +5 to hit. Hit: 13 (3d6 + 3) piercing damage.
Claw (3/turn). Melee Weapon Attack: +5 to hit. Hit: 6 (1d6 + 3) slashing damage.
Elemental planes, Underdarksrd