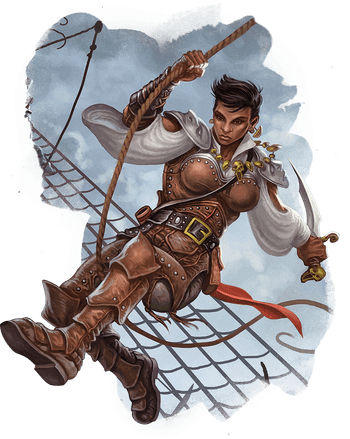 Swashbuckler
Medium humanoid (any species)
Challenge

3
---
---
---
Speed 5 m.
Languages any one language (usually Common)
---
Lightfooted. Once on its turn, the swashbuckler can use the Dash or Disengage action without using an action.
Maneuvers. The swashbuckler uses maneuvers (maneuver save Difficulty 14). It has 9 stamina dice which are d8s, a dice limit of 1, regains all expended stamina dice when it finishes a long rest, and regains half its total stamina dice (rounded up) when it finishes a short rest. It knows the following maneuvers:
1 stamina die: disorient, distract, fan of knives, feint, nimble, positioning strike, spring attack, step of the wind, uncanny dodge
Suave Defense. While the swashbuckler is wearing light or no armor and wielding no shield, its Defense includes its Charisma.
Actions (3)
Dagger. Melee or Ranged Weapon Attack: +6 to hit, reach 1 m. or range 3/10 m. Hit: 6 (1d4 + 4) piercing damage.
Rapier (2/turn). Melee Weapon Attack: +6 to hit, reach 1 m. Hit: 8 (1d8 + 4) piercing damage.
Coastal, Urbanvgtm