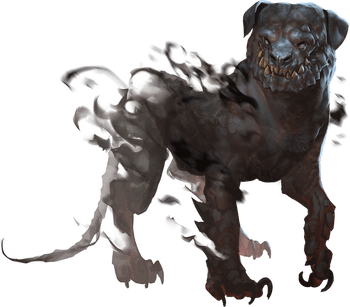 Shadow Mastiff
Medium monstrosity
Challenge

2
---
STR

3
DEX

2
CON

1
INT

−3
WIS

1
CHA

−3
---
Damage resistances bludgeoning, piercing, and slashing from attacks while in dim light or darkness
---
Speed 8 m.
Senses darkvision 10 m.
---
Ethereal Awareness. The shadow mastiff can see ethereal creatures and objects.
Keen Hearing and Smell. The shadow mastiff has advantage on Perception checks that rely on hearing or smell.
Sunlight Weakness. While in bright light created by sunlight, the shadow mastiff has disadvantage on attack rolls, ability checks, and saving throws.
Actions (2)
Bite. Melee Weapon Attack: +5 to hit, reach 1 m. Hit: 6 (1d6 + 3) piercing damage. If the target is a creature, it must succeed on a Difficulty 13 Reflex saving throw or be knocked prone.
Shadow Blend (1/turn). While in dim light or darkness, the shadow mastiff can become invisible, along with anything it is wearing or carrying. The invisibility lasts until the shadow mastiff attacks, is in bright light, is incapacitated, or ends it on its turn (no action required).
Forest, Hill, Swampvgtm
No concoctions, maneuvers, or spells
All creatures in this system should have maneuvers or spells. You should add some maneuvers or spells to this creature. If you do so, please make a suggestion on github so I can finish adding maneuvers and spells to all creatures via https://github.com/mlenser/kryx-rpg-issues/issues/9.