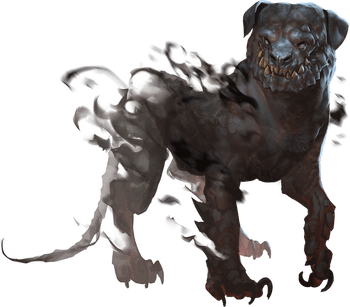 Shadow Mastiff
Medium beast
Challenge

2
---
STR

3
DEX

2
CON

1
INT

−3
WIS

1
CHA

−3
---
Damage resistances bludgeoning, piercing, and slashing from attacks while in dim light or darkness
---
Speed 8 m.
Senses darkvision 10 m.
---
Ethereal Awareness. The shadow mastiff can see ethereal creatures and objects.
Keen Hearing and Smell. The shadow mastiff has advantage on Perception checks that rely on hearing or smell.
Spellcasting. The shadow mastiff uses Occult (Wis) to cast spells (spell save Difficulty 11, +2 to hit with spell attacks). It has 2 mana, a mana limit of 1, regains all expended mana when it finishes a long rest, and regains half its total mana when it finishes a short rest. It knows the following spells:
Cantrips (at will): cloud senses, control shadow, gloom, shadow blade
1 mana: cloak of shadows, darkness, five shadows, obscure, obscuring strike, pass without trace, shadow anchor, shadow jaunt, shadow tendrils, shadow veil, shadowy reprisal, silence, umbral weapon, unseen servant
Sunlight Weakness. While in bright light created by sunlight, the shadow mastiff has disadvantage on attack rolls, ability checks, and saving throws.
Actions (2)
Bite. Melee Weapon Attack: +4 to hit. Hit: 6 (1d6 + 3) piercing damage. If the target is a creature, it must succeed on a Difficulty 13 Reflex saving throw or be knocked prone.
Shadow Blend (1/turn). While in dim light or darkness, the shadow mastiff can become invisible, along with anything it is wearing or carrying. The invisibility lasts until the shadow mastiff attacks, is in bright light, is incapacitated, or ends it on its turn (no action required).
Forest, Hill, Shadowfell, Swampvgtm