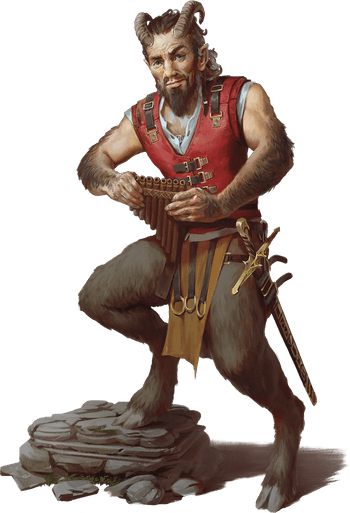 Satyr
Medium fey
Challenge

½
---
---
Defense note leather
Damage resistances bludgeoning, piercing, and slashing from attacks that aren't cold iron
---
Speed 8 m.
Languages Common, Elvish, Sylvan
---
Magic Resistance. The satyr has advantage on saving throws against spells and other magical effects.
Spellcasting. The satyr uses Occult (cha) to cast spells (spell save Difficulty 13, +4 to hit with spell attacks). It has 1 mana, a mana limit of 1, regains all expended mana when it finishes a long rest, and regains half its total mana when it finishes a short rest. It knows the following spells:
Cantrips (at will): charm, empathy, lullaby
1 mana: beguile, charm creature, charming presence, compelled duel, friends, hypnotize, instinctive charm, sleep
Actions (1)
Ram. Melee Weapon Attack: +2 to hit. Hit: 6 (2d4 + 1) bludgeoning damage.
Shortsword. Melee Weapon Attack: +4 to hit. Hit: 6 (1d6 + 3) piercing damage.
Shortbow. Ranged Weapon Attack: +4 to hit, range 10/100 m. Hit: 6 (1d6 + 3) piercing damage.
Panpipes. The satyr plays its pipes and chooses one of the following magical effects: a charming melody, a frightening strain, or a gentle lullaby. Any creature within 10 meters of the satyr that can hear the pipes must succeed on a Difficulty 13 Will saving throw or be affected as described below. Other satyrs and creature that can't be charmed are unaffected.
An affected creature can repeat the saving throw at the end of each of its turns, ending the effect on itself on a success. If a creature's saving throw is successful or the effect ends for it, the creature is immune to these panpipes for the next 24 hours.
Charming Melody. The creature is charmed by the satyr for 1 minute. If the satyr or any of its companions harms the creature, the effect on it ends immediately.
Frightening Strain. The creature is frightened for 1 minute.
Gentle Lullaby. The creature falls asleep and is unconscious for 1 minute. The effect ends if the creature takes damage or if someone uses an action to shake the creature awake.