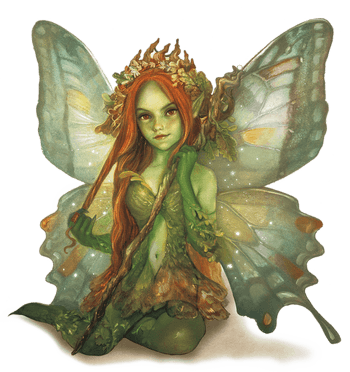 ---
STR

−4
DEX

5
CON

−1
INT

0
WIS

2
CHA

2
---
Damage resistances bludgeoning, piercing, and slashing from attacks that aren't cold iron
---
Speed 2 m., fly 5 m.
Skills Arcana +2 (13), Insight +2 (13), Perception +4 (15), Stealth +7 (18)
Languages Sylvan
---
Magic Resistance. The pixie has advantage on saving throws against spells and other magical effects.
Actions
Superior Invisibility. The pixie magically turns invisible until its concentration ends (as if concentrating on a spell). Any equipment the pixie wears or carries is invisible with it.
Forestmm
No concoctions, maneuvers, or spells
All creatures in this system should have maneuvers or spells. You should add some maneuvers or spells to this creature. If you do so, please make a suggestion on github so I can finish adding maneuvers and spells to all creatures via https://github.com/mlenser/kryx-rpg-issues/issues/9