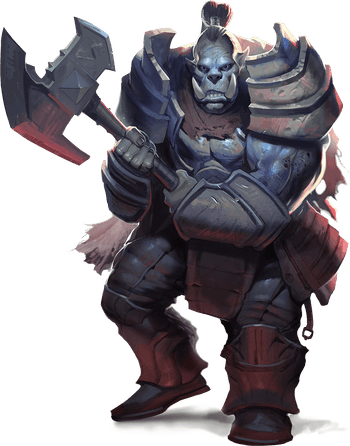 Orog
Medium humanoid (orc)
Challenge

2
---
---
---
Speed 5 m.
Senses darkvision 10 m.
Languages Common, Orc
---
Aggressive. Once on its turn, the orog can move up to its speed toward a hostile creature that it can see.
Maneuvers. The orog uses maneuvers (maneuver save Difficulty 14). It has 7 stamina dice which are d8s, a dice limit of 1, regains all expended stamina dice when it finishes a long rest, and regains half its total stamina dice (rounded up) when it finishes a short rest. It knows the following maneuvers:
1 stamina die: disorient, hamstring, knockback, slice through, spring attack, whirling blade
Relentless Endurance (Recharges after a Short or Long Rest). If the orog is reduced to 0 health but not killed outright, it can drop to 1 health instead.
Actions (2)
Greataxe. Melee Weapon Attack: +6 to hit, reach 1 m. Hit: 10 (1d12 + 4) slashing damage.
Longspear. Melee or Ranged Weapon Attack: +6 to hit, reach 1 m. or range 5/20 m. Hit: 8 (1d8 + 4) piercing damage, or 9 (1d10 + 4) piercing damage if used with two hands to make a melee attack.
Arctic, Forest, Grassland, Hill, Mountain, Underdarkmm