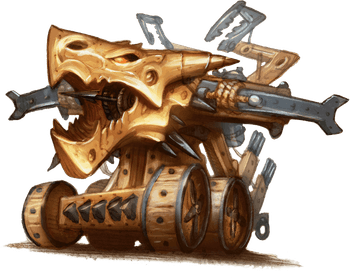 Oaken Bolter
Medium construct
Challenge

5
---
STR

1
DEX

4
CON

2
INT

−4
WIS

0
CHA

−5
---
Defense note natural armor
Damage immunities poison; bludgeoning, piercing, and slashing from attacks that aren't adamantine
Condition immunities charmed, diseased, exhausted, frightened, paralyzed, petrified, poisoned
---
Speed 5 m.
Senses darkvision 10 m.
Languages understands one language of its creator but can't speak
---
Magic Resistance. The oaken bolter has advantage on saving throws against spells and other magical effects.
Actions (2)
Lancing Bolt. Melee or Ranged Weapon Attack: +7 to hit, reach 1 m. or range 5/20 m. Hit: 15 (2d10 + 4) piercing damage. If the crocodile uses the grapple maneuver, a creature's speed isn't reduced, but it can move only in directions that bring it closer to the oaken bolter. A creature takes 5 (1d10) slashing damage if it escapes from the grapple or if it tries and fails. Once on its turn, the oaken bolter can pull a creature grappled by it 4 meters closer. The oaken bolter can grapple only one creature at a time.
Explosive Bolt (Recharge 5–6). The oaken bolter launches an explosive charge at a point within 20 meters. Each creature within 4 meters of that point must make a DC 15 Reflex saving throw. On a failed save, a creature takes 35 (10d6) fire damage and is burning 2. On a successful save, a creature takes half as much damage and isn't burning.
Forest, Grassland, Hill, Mountainmtof