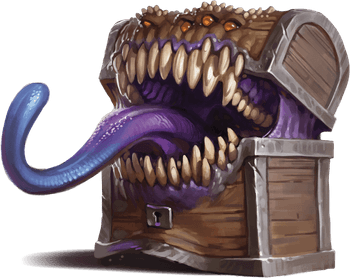 Mimic
Medium aberration (shapechanger)
Challenge

2
---
STR

3
DEX

1
CON

2
INT

−3
WIS

1
CHA

−1
---
Defense note natural armor
Damage immunities acid
Condition immunities
prone
---
Speed 3 m.
Senses darkvision 10 m.
---
Adhesive (Object form only). The mimic adheres to anything that touches it. A Huge or smaller creature adhered to the mimic is also grappled by it (escape Difficulty 10). Ability checks made to escape this grapple have disadvantage.
False Appearance (Object form only). While the mimic remains motionless, it is indistinguishable from an ordinary object.
Grappler. The mimic has advantage on attack rolls against any creature grappled by it.
Spellcasting. The mimic uses Occult (Wis) to cast spells (spell save Difficulty 11, +2 to hit with spell attacks). It has 2 mana, a mana limit of 1, regains all expended mana when it finishes a long rest, and regains half its total mana when it finishes a short rest. It knows the following spells:
Cantrips (at will): blind spot, manipulate sound, mercy, minor illusion, thaumaturgy
1 mana: blur, control sound, cutting words, deceive, disguise, false sensory input, illusory script, image, invisibility, magic mouth, mirror image, mirrored strike, misdirection, pass without trace, phantom steed, silence
Actions (1)
Pseudopod. Melee Weapon Attack: +4 to hit. Hit: 7 (1d8 + 3) bludgeoning damage. If the mimic is in object form, the target is subjected to its Adhesive trait.
Bite. Melee Weapon Attack: +4 to hit. Hit: 7 (1d8 + 3) piercing damage plus 4 (1d8) acid damage and the target's armor or natural armor is corroded 1 until the end of the mimic's next turn.
Change Shape (1/turn). The mimic can polymorph into an object or back into its true, amorphous form. Its statistics are the same in each form. Any equipment it is wearing or carrying isn't transformed. It reverts to its true form if it dies.