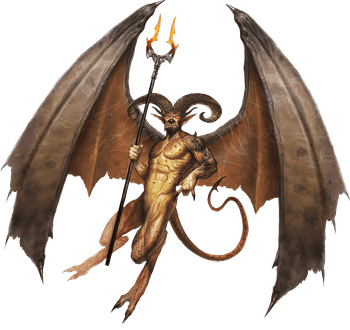 Malebranche (Horned Devil)
Large fiend (devil)
Challenge

11
---
---
Defense note natural armor
Damage resistances cold; bludgeoning, piercing, and slashing from attacks that aren't silvered
Damage immunities fire, poison
---
Speed 4 m., fly 10 m.
Senses darkvision 20 m.
Languages Infernal, telepathy 20 m.
---
Devil's Sight. Magical darkness doesn't impede the malebranche's darkvision.
Magic Resistance. The malebranche has advantage on saving throws against spells and other magical effects.
Maneuvers. The malebranche uses maneuvers (maneuver save Difficulty 18). It has 21 stamina dice which are d8s, a dice limit of 4, regains all expended stamina dice when it finishes a long rest, and regains half its total stamina dice when it finishes a short rest. It knows the following maneuvers:
1 stamina die: blood in the water, chain sweep, charge, disorient, distant shot, fountain of blood, hamstring, impale, knockback, lead the attack, lunge, rampage, slice through, smash, spring attack, sprint, throw, trip, whirling blade
2 stamina dice: frenzy, vengeance
3 stamina dice: battle cry, battle leader
Actions (3)
Fork (2/turn). Melee or Ranged Weapon Attack: +9 to hit, reach 1 m. or range 5/20 m. Hit: 15 (2d8 + 6) piercing damage, or 17 (2d10 + 6) piercing damage if used with two hands to make a melee attack.
Tail (1/turn). Melee Weapon Attack: +9 to hit, reach 2 m. Hit: 10 (1d8 + 6) piercing damage. If the target is a creature other than an undead or a construct, it must succeed on a Difficulty 17 Fortitude saving throw or lose 10 (3d6) health at the start of each of its turns due to an infernal wound. Each time the devil hits the wounded target with this attack, the damage dealt by the wound increases by 10 (3d6). Any creature can use an action to stanch the wound with a successful Difficulty 17 Medicine check. The wound also closes if the target receives magical healing.
Hurl Flame. Ranged Spell Attack: +6 to hit, range 20 m. Hit: 14 (4d6) fire damage and the target is burning 1. The fire ignites flammable objects that aren't being worn or carried.
Summon Devil (1/long rest). The malebranche has a 30 percent chance of summoning one malebranche. A summoned devil appears in an unoccupied space within 10 meters of the malebranche, acts as its ally, and can't summon other devils. It remains for 1 minute, until it or the malebranche dies, or until the malebranche dismisses it on its turn (no action required).