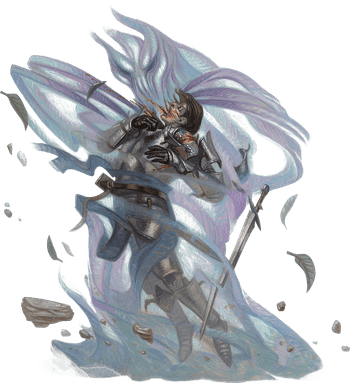 Invisible Stalker
Medium elemental
Challenge

6
---
---
Damage resistances bludgeoning, piercing, and slashing from nonmagical attacks
Damage immunities poison
---
Speed 10 m., fly 10 m. (hover)
Senses darkvision 10 m.
Languages Auran, understands Common but doesn't speak it
---
Faultless Tracker. The stalker is given a quarry by its summoner. The stalker knows the direction and distance to its quarry as long as the two of them are on the same plane of existence. The stalker also knows the location of its summoner.
Maneuvers. The invisible stalker uses maneuvers (maneuver save Difficulty 15). It has 18 stamina dice which are d8s, a dice limit of 2, regains all expended stamina dice when it finishes a long rest, and regains half its total stamina dice when it finishes a short rest. It knows the following maneuvers:
1 stamina die: ambush, cripple, disorient, distract, spring attack
2 stamina dice: gag
Actions (2)
Slam. Melee Weapon Attack: +6 to hit, reach 1 m. Hit: 10 (2d6 + 3) bludgeoning damage.