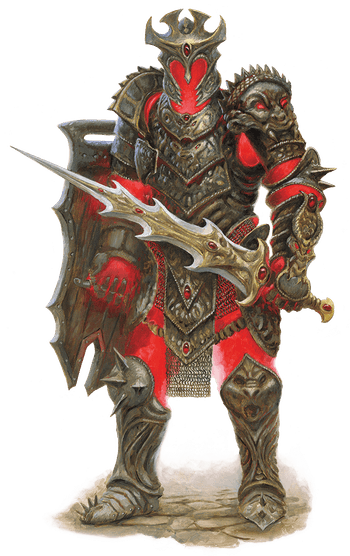 Helmed Horror
Medium construct
Challenge

4
---
---
Defense note plate, shield
Damage resistances bludgeoning, piercing, and slashing from attacks that aren't adamantine
Damage immunities force, necrotic, poison
Condition immunities blinded, charmed, deafened, diseased, frightened, paralyzed, petrified, poisoned, stunned
---
Speed 5 m., fly 5 m.
Skills Insight +0 (11), Perception +2 (13)
Senses blindsight 10 m. (blind beyond this radius)
Languages understands the languages of its creator but can't speak
---
Magic Resistance. The helmed horror has advantage on saving throws against spells and other magical effects.
Maneuvers. The helmed horror uses maneuvers (maneuver save DC 14). It has 11 stamina dice which are d8s, a dice limit of 2, regains all expended stamina dice when it finishes a long rest, and regains half its total stamina dice (rounded up) when it finishes a short rest. It knows the following maneuvers:
1 stamina die: disorient, hamstring, parry, slice through, spring attack, trip, whirling blade
Spell Immunity. The helmed horror is immune to three spells chosen by its creator. Typical immunities include fireball, heat metal, and lightning bolt.
Actions (2)
Longsword. Melee Weapon Attack: +6 to hit, reach 1 m. Hit: 8 (1d8 + 4) slashing damage, or 9 (1d10 + 4) slashing damage if used with two hands.
Shortsword. Melee Weapon Attack: +6 to hit, reach 1 m. Hit: 7 (1d6 + 4) piercing damage.
mm