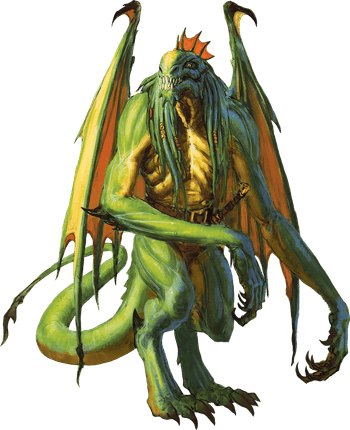 Green Abishai
Medium fiend (devil)
Challenge

15
---
---
Defense note natural armor
Damage resistances cold; bludgeoning, piercing, and slashing from attacks that aren't silvered
Damage immunities fire, poison
---
Speed 5 m., fly 8 m.
Senses darkvision 20 m.
Languages Draconic, Infernal, telepathy 20 m.
---
Devil's Sight. Magical darkness doesn't impede the green abishai's darkvision.
Magic Resistance. The green abishai has advantage on saving throws against spells and other magical effects.
Magic Weapons. The green abishai's weapon attacks are magical.
Spellcasting. The green abishai uses Divinity (Cha) to cast spells (spell save Difficulty 17, +8 to hit with spell attacks). It has 14 mana, a mana limit of 3, regains all expended mana when it finishes a long rest, and regains half its total mana when it finishes a short rest. It knows the following spells:
At will: alter self, image (augmented to major image)
Cantrips (at will, 19th-level spellcaster): frighten
1 mana: charm creature, command, confusion, fear
2 mana: detect thoughts, incite panic, mind control, suggestion
Actions (3)
Longsword. Melee Weapon Attack: +5 to hit. Hit: 5 (1d8 + 1) slashing damage, or 6 (1d10 + 1) slashing damage if used with two hands, plus 13 (3d8) poison damage.
Claws (1/turn). Melee Weapon Attack: +7 to hit. Hit: 12 (2d8 + 3) piercing damage plus 13 (3d8) poison damage. If the target is a creature, it must succeed on a Difficulty 16 Fortitude saving throw or become poisoned for 1 minute. The poisoned target can repeat the saving throw at the end of each of its turns, ending the effect on itself on a success.
Lower planes, Urbanmtof