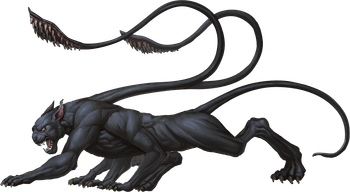 Displacer Beast
Large monstrosity
Challenge

6
---
STR

4
DEX

3
CON

3
INT

−2
WIS

2
CHA

−1
---
Defense note natural armor
---
Speed 10 m., climb 8 m.
Senses darkvision 10 m.
---
Avoidance. If the displacer beast is subjected to an effect that allows it to make a saving throw to take only half damage, it instead takes no damage if it succeeds on the saving throw, and only half damage if it fails.
Displacement. The displacer beast projects a magical illusion that makes it appear to be standing near its actual location, causing attack rolls against it to have disadvantage. If it is hit by an attack, this trait is disrupted until the end of its next turn. This trait is also disrupted while the displacer beast is incapacitated or has a speed of 0.
Keen Smell. The panther has advantage on Perception checks that rely on smell.
Maneuvers. The displacer beast uses maneuvers (maneuver save Difficulty 15). It has 18 stamina dice which are d8s, a dice limit of 2, regains all expended stamina dice when it finishes a long rest, and regains half its total stamina dice when it finishes a short rest. It knows the following maneuvers:
1 stamina die: ambush, fling, grapple, pounce, spring attack, stalking shadow, tear flesh
2 stamina dice: tear tendon
Running Leap. With a 2-meter running start, the displacer beast can long jump up to 5 meters.
Actions (3)
Bite (1/turn). Melee Weapon Attack: +7 to hit, reach 1 m. Hit: 8 (1d8 + 4) piercing damage.
Claw (1/turn). Melee Weapon Attack: +7 to hit, reach 1 m. Hit: 7 (1d6 + 4) slashing damage.
Tentacle (2/turn). Melee Weapon Attack: +7 to hit, reach 2 m. Hit: 11 (2d6 + 4) bludgeoning damage plus 7 (2d6) piercing damage.
Forestmm