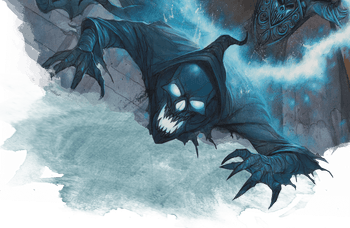 Deathlock Wight
Medium undead
Challenge

3
---
---
Defense note −2 without mage armor
Damage resistances necrotic; bludgeoning, piercing, and slashing from nonmagical attacks
Damage immunities poison
Condition immunities diseased, exhausted, poisoned
---
Speed 5 m.
Skills Divinity +4 (15), Insight +2 (13), Perception +4 (15)
Senses darkvision 10 m.
Languages the languages it knew in life
---
Sunlight Sensitivity. While in sunlight, the wight has disadvantage on attack rolls, as well as on Perception checks that rely on sight.
Actions (2)
Grave Bolt. Ranged Spell Attack: +5 to hit, range 20 m. Hit: 4 (1d8) necrotic damage.
Life Drain (1/turn). Melee Weapon Attack: +4 to hit, reach 1 m. Hit: 9 (2d6 + 2) necrotic damage. The target must succeed on a DC 13 Fortitude saving throw or its maximum health is reduced by an amount equal to the damage taken. This reduction lasts until the target finishes a long rest. The target dies if this effect reduces its maximum health to 0.
A humanoid slain by this attack rises 24 hours later as a zombie under the wight's control, unless the humanoid is restored to life or its body is destroyed. The wight can have no more than twelve zombies under its control at one time.
mtof
No concoctions, maneuvers, or spells
All creatures in this system should have maneuvers or spells. You should add some maneuvers or spells to this creature. If you do so, please make a suggestion on github so I can finish adding maneuvers and spells to all creatures via https://github.com/mlenser/kryx-rpg-issues/issues/9