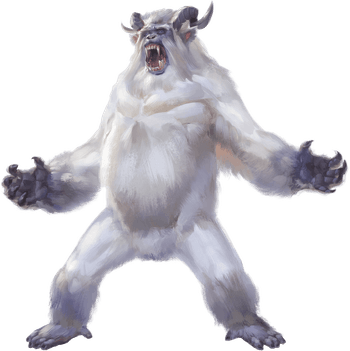 ---
STR

4
DEX

1
CON

3
INT

−1
WIS

1
CHA

−2
---
Defense note natural armor
Damage immunities cold
---
Speed 8 m., climb 8 m.
Skills Perception +2 (13), Stealth +2 (13)
Senses darkvision 10 m.
Languages Yeti
---
Actions (3)
Claw (2/turn). Melee Weapon Attack: +5 to hit. Hit: 7 (1d6 + 4) slashing damage plus 3 (1d6) cold damage.
Chilling Gaze (Recharge 5–6). One creature that the yeti can see and it can see the yeti within 5 meters of it must succeed on a Difficulty 13 Fortitude saving throw against or take 4 (1d8) cold damage and be stunned for 1 minute, unless it is immune to cold damage. On a success, a creature takes half as much damage and isn't stunned. The target can repeat the saving throw at the end of each of its turns, ending the effect on itself on a success. If the target's saving throw is successful, or if the effect ends on it, the target is immune to the yeti's gaze for 1 hour.
Arcticmm