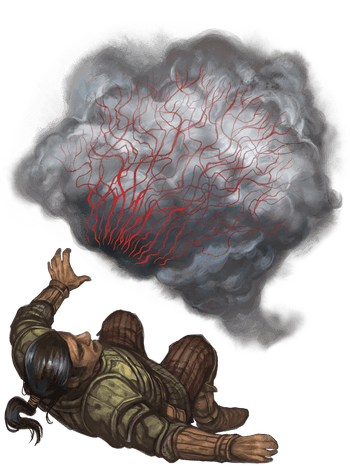 Vampiric Mist
Medium undead
Challenge

3
---
STR

−2
DEX

3
CON

3
INT

−2
WIS

1
CHA

1
---
Damage resistances acid, cold, concussion, lightning, necrotic; bludgeoning, piercing, and slashing from attacks that aren't silvered
Damage immunities poison
---
Speed 0 m., fly 5 m. (hover)
Senses darkvision 10 m.
---
Forbiddance. The vampiric mist can't enter a residence without an invitation from one of the occupants.
Life Sense. The vampiric mist can sense the location of any creature within 10 meters of it, unless that creature's type is construct or undead.
Misty Form. The vampiric mist can occupy another creature's space and vice versa. In addition, if air can pass through a space, the vampiric mist can pass through it without squeezing. The distance it moves while through water is halved. The vampiric mist can't manipulate objects in any way that requires fingers or manual dexterity.
Spellcasting. The vampiric mist uses Occult (Cha) to cast spells (spell save Difficulty 11, +2 to hit with spell attacks). It has 6 mana, a mana limit of 1, regains all expended mana when it finishes a long rest, and regains half its total mana when it finishes a short rest. It knows the following spells:
Cantrips (at will): blood siphon
1 mana: analyze blood, avasculate, blood drain, blood puppet, blood purge, blooddrinking weapon, bloodletting strike
Sunlight Hypersensitivity. The vampiric mist takes 20 radiant damage when it starts its turn in sunlight. While in sunlight, it has disadvantage on attack rolls, ability checks, and saving throws.
Actions (1)
Life Drain (1/turn). The vampiric mist touches one creature in its space. The target must succeed on a Difficulty 13 Fortitude saving throw (undead and constructs automatically succeed) or take 22 (5d8) necrotic damage, and the vampiric mist regains health equal to the total damage dealt.
Arctic, Coastal, Forest, Grassland, Mountain, Swamp, Underdark, Urbanmtof