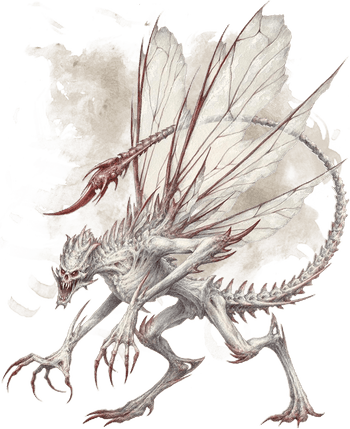 Osyluth (Bone Devil)
Large fiend (devil)
Challenge

9
---
---
Defense note natural armor
Damage resistances cold; bludgeoning, piercing, and slashing from attacks that aren't silvered
Damage immunities fire, poison
---
Speed 8 m., fly 8 m.
Senses darkvision 20 m.
Languages Infernal, telepathy 20 m.
---
Devil's Sight. Magical darkness doesn't impede the osyluth's darkvision.
Magic Resistance. The osyluth has advantage on saving throws against spells and other magical effects.
Maneuvers. The osyluth uses maneuvers (maneuver save Difficulty 16). It has 17 stamina dice which are d8s, a dice limit of 3, regains all expended stamina dice when it finishes a long rest, and regains half its total stamina dice when it finishes a short rest. It knows the following maneuvers:
1 stamina die: nimble, positioning strike, slashing blades, spring attack, step of the wind, swipe, tear flesh, vault
2 stamina dice: frenzy, tear tendon, uncanny dodge
Actions (3)
Claw (2/turn). Melee Weapon Attack: +7 to hit, reach 2 m. Hit: 8 (1d8 + 4) slashing damage.
Sting (1/turn). Melee Weapon Attack: +7 to hit, reach 2 m. Hit: 13 (2d8 + 4) piercing damage plus 17 (5d6) poison damage and the target must succeed on a Difficulty 16 Fortitude saving throw or become poisoned for 1 minute. The target can repeat the saving throw at the end of each of its turns, ending the effect on itself on a success.
Summon Devil (1/long rest). The osyluth has a 40 percent chance of summoning 2d6 spinagons or one osyluth. A summoned devil appears in an unoccupied space within 10 meters of the osyluth, acts as its ally, and can't summon other devils. It remains for 1 minute, until it or the osyluth dies, or until the osyluth dismisses it on its turn (no action required).