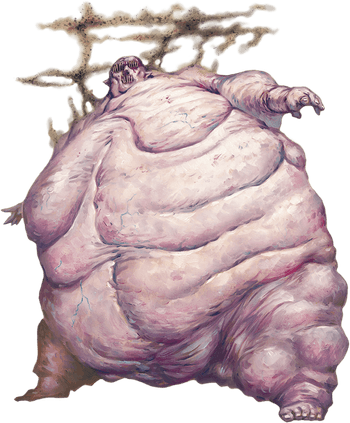 Nupperibo
Medium fiend (devil)
Challenge

½
---
STR

3
DEX

0
CON

1
INT

−4
WIS

−1
CHA

−5
---
Defense note natural armor
Damage resistances acid, cold; bludgeoning, piercing, and slashing from attacks that aren't silvered
Damage immunities fire, poison
---
Speed 4 m.
Senses blindsight 2 m. (blind beyond this radius)
Languages understands Infernal but can't speak
---
Cloud of Vermin. Any creature, other than a devil, that starts its turn within 4 meters of the nupperibo must make a Difficulty 11 Fortitude saving throw. A creature within the areas of two or more nupperibos makes the saving throw with disadvantage. On a failure, the creature takes 2 (1d4) piercing damage.
Hunger-Driven. In the Nine Hells, the nupperibos can flawlessly track any creature that has taken damage from any nupperibo's Cloud of Vermin within the previous 24 hours.
Actions
Bite. Melee Weapon Attack: +5 to hit, reach 1 m. Hit: 6 (1d6 + 3) piercing damage.
mtof
No concoctions, maneuvers, or spells
All creatures in this system should have maneuvers or spells. You should add some maneuvers or spells to this creature. If you do so, please make a suggestion on github so I can finish adding maneuvers and spells to all creatures via https://github.com/mlenser/kryx-rpg-issues/issues/9.