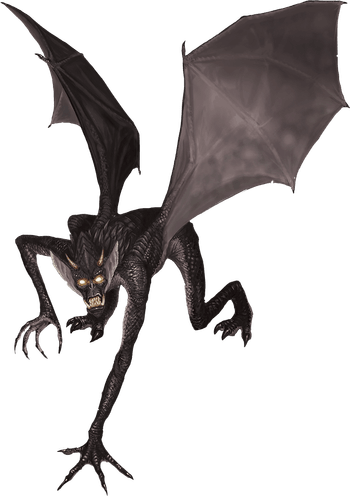 Nabassu
Medium fiend (demon)
Challenge
---
---
Defense note natural armor
Damage resistances cold, fire, lightning; bludgeoning, piercing, and slashing from attacks that aren't cold iron
Damage immunities poison
Condition immunities poisoned
---
Speed 8 m., fly 10 m.
Skills Athletics +10 (21), Brawn +10 (21), Nimbleness +6 (17), Perception +6 (17), Brawn or Nimbleness +10 (21)
Senses darkvision 10 m.
Languages Abyssal, telepathy 20 m.
---
Actions (3)
Bite (1/turn). Melee Weapon Attack: +10 to hit. Hit: 32 (4d12 + 6) piercing damage.
Claws (1/turn). Melee Weapon Attack: +10 to hit. Hit: 17 (2d10 + 6) slashing damage.
Soul-Stealing Gaze (1/turn). The nabassu targets one creature it can see within 5 meters of it. If the target can see the nabassu and isn't a construct or an undead, it must succeed on a Difficulty 16 Will saving throw or reduce its maximum health by 76 (17d8) and give the nabassu an equal amount of temporary health. This reduction lasts until the target finishes a long rest. The target dies if its maximum health is reduced to 0, and if the target is a humanoid, it immediately rises as a ghoul under the nabassu's control.
Lower planes, Swamp, Underdark, Urbanmtof