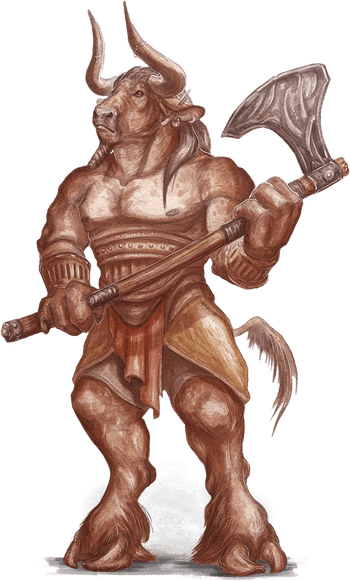 Minotaur
Large humanoid
Challenge

3
---
STR

4
DEX

0
CON

3
INT

−2
WIS

3
CHA

−1
---
Defense note natural armor
---
Speed 8 m.
Languages Common, Minotaur
---
Labyrinthine Recall. The minotaur can perfectly recall any path he has traveled, and it is immune to the maze spell.
Maneuvers. The minotaur uses maneuvers (maneuver save Difficulty 14). It has 6 stamina dice which are d8s, a dice limit of 1, regains all expended stamina dice when it finishes a long rest, and regains half its total stamina dice when it finishes a short rest. It knows the following maneuvers:
1 stamina die: charge, disorient, fearsome beast, hamstring, knockback, rally, slice through, spring attack, whirling blade
Minotaur Cunning. The minotaur possesses innate cunning and logical ability. It has advantage on skill checks and saving throws to avoid becoming lost and to avoid or escape a grapple or being restrained.
Reckless. At the start of his turn, the minotaur can gain advantage on melee weapon attacks during that turn, but attacks made against it have advantage until the start of its next turn.
Actions (1)
Greataxe. Melee Weapon Attack: +5 to hit. Hit: 17 (2d12 + 4) slashing damage.
Gore. Melee Weapon Attack: +5 to hit. Hit: 13 (2d8 + 4) piercing damage.