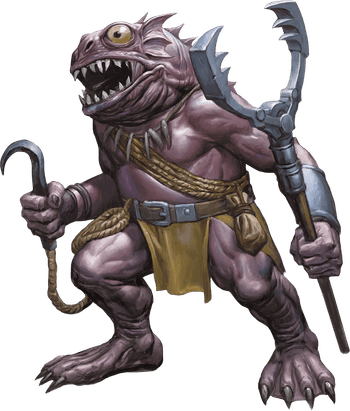 Kuo-Toa Whip
Medium humanoid (kuo toa)
Challenge

1
---
---
Defense note natural armor
---
Speed 5 m., swim 5 m.
Senses darkvision 20 m.
Languages Undercommon
---
Amphibious. The kuo-toa can breathe air and water.
Otherwordly Perception. The kuo-toa can sense the presence of any creature within 5 meters of it that is invisible or on the Ethereal Plane. It can pinpoint such a creature that is moving.
Slippery. The kuo-toa has advantage on ability checks and saving throws made to escape a grapple.
Spellcasting. The kuo-toa whip uses Divinity (Wis) to cast spells (spell save Difficulty 12, +4 to hit with spell attacks). It has 1 mana, a mana limit of 1, regains all expended mana when it finishes a long rest and regains half its total mana (rounded up) when it finishes a short rest. It knows the following spells:
Cantrips (at will): hydraulic push, shape water
1 mana: aquatic adaptation, create or purify water, desiccate, ebb and flow, fog cloud, liquid body, locate water, rain, slick skin, tidal break, tidal surge, water jet, water whip
Sunlight Sensitivity. While in sunlight, the kuo-toa has disadvantage on attack rolls, as well as on Perception checks that rely on sight.
Actions (2)
Bite (1/turn). Melee Weapon Attack: +4 to hit, reach 1 m. Hit: 4 (1d4 + 2) piercing damage.
Pincer Staff (1/turn). Melee Weapon Attack: +4 to hit, reach 2 m. Hit: 5 (1d6 + 2) piercing damage. If the target is a Medium or smaller creature, it is grappled (escape Difficulty 12). Until this grapple ends, the kuo-toa can't use its pincer staff on another target.
Underdarkmm
No concoctions, maneuvers, or spells
All creatures in this system should have maneuvers or spells. You should add some maneuvers or spells to this creature. If you do so, please make a suggestion on github so I can finish adding maneuvers and spells to all creatures via https://github.com/mlenser/kryx-rpg-issues/issues/9.