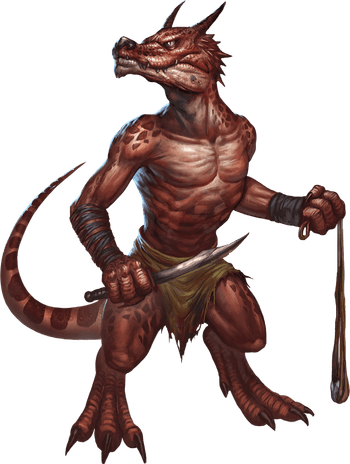 Kobold
Small humanoid (kobold)
Challenge

⅛
---
STR

−2
DEX

2
CON

−1
INT

−1
WIS

−2
CHA

−1
---
---
Speed 5 m.
Senses darkvision 10 m.
Languages Common, Draconic
---
Pack Tactics. The kobold has advantage on an attack roll against a creature if at least one of the kobold's allies is within 1 meter of the creature and the ally isn't incapacitated.
Sunlight Sensitivity. While in sunlight, the kobold has disadvantage on attack rolls, as well as on Perception checks that rely on sight.
Actions
Dagger. Melee or Ranged Weapon Attack: +4 to hit, reach 1 m. or range 3/10 m. Hit: 4 (1d4 + 2) piercing damage.
Sling. Ranged Weapon Attack: +4 to hit, range 5/20 m. Hit: 4 (1d4 + 2) bludgeoning damage.
Arctic, Coastal, Desert, Forest, Hill, Mountain, Swamp, Underdark, Urbansrd
No concoctions, maneuvers, or spells
All creatures in this system should have maneuvers or spells. You should add some maneuvers or spells to this creature. If you do so, please make a suggestion on github so I can finish adding maneuvers and spells to all creatures via https://github.com/mlenser/kryx-rpg-issues/issues/9.