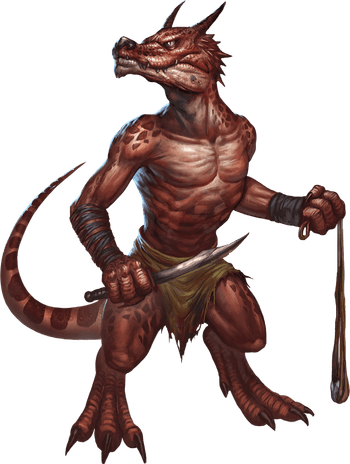 Kobold
Small humanoid (kobold)
Challenge
---
STR

−2
DEX

2
CON

−1
INT

−1
WIS

−2
CHA

−1
---
Damage resistances resistance to the damage type associated with its draconic ancestry
---
Speed 5 m.
Skills Nimbleness +3 (14), Perception −1 (10), Primal (cha) +0 (11), Stealth +3 (14)
Senses darkvision 10 m.
Languages Common, Draconic
---
Draconic Ancestry. The kobold has draconic ancestry. Choose one type of dragon from the Draconic Ancestry table.
Heart of the Dragon. If the kobold is frightened or paralyzed by an effect that allows a saving throw, it can repeat the save at the start of its turn to end the effect. If the effect is ended, it has advantage on its next skill check.
Scamper. When the the kobold takes the Dash or Disengage action, it can move an additional 2 meters. It must end this movement in a space that's not adjacent to any enemy.
Spellcasting. The kobold uses Primal (cha) to cast spells (spell save Difficulty 9, +0 to hit with spell attacks). It can cast the following spells:
1 cantrip from a theme associated with its draconic ancestry
Actions (1)
Dagger. Melee or Ranged Weapon Attack: +3 to hit, reach 1 m. or range 3/10 m. Hit: 4 (1d4 + 2) piercing damage.
Sling. Ranged Weapon Attack: +3 to hit, range 5/20 m. Hit: 4 (1d4 + 2) bludgeoning damage.
Arctic, Coastal, Desert, Forest, Hill, Mountain, Swamp, Underdark, Urbansrd