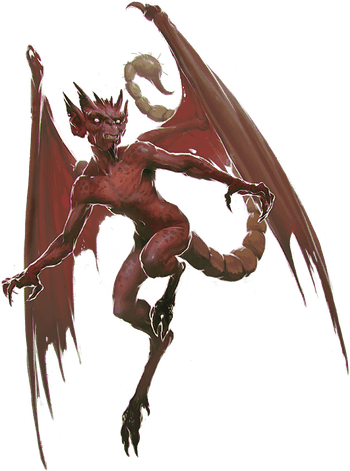 Imp
Tiny fiend (devil)
Challenge

1
---
STR

−2
DEX

3
CON

1
INT

0
WIS

1
CHA

2
---
Damage resistances cold; bludgeoning, piercing, and slashing from attacks that aren't silvered
Damage immunities fire, poison
---
Speed 4 m., fly 8 m.
Senses darkvision 20 m.
Languages Infernal, Common
---
Devil's Sight. Magical darkness doesn't impede the imp's darkvision.
Magic Resistance. The imp has advantage on saving throws against spells and other magical effects.
Spellcasting. The imp uses Divinity (Cha) to cast spells (spell save Difficulty 12, +4 to hit with spell attacks). It has 2 mana, a mana limit of 1, regains all expended mana when it finishes a long rest and regains half its total mana when it finishes a short rest. It knows the following spells:
At will: invisibility
Cantrips (at will): produce flame, thaumaturgy
1 mana: fiery rebuke, pyrotechnics, scorching bolts
Actions
Sting (Bite in Animal Form). Melee Weapon Attack: +5 to hit, reach 1 m. Hit: 5 (1d4 + 3) piercing damage, and the target must make on a Difficulty 11 Fortitude saving throw, taking 10 (3d6) poison damage on a failed save, or half as much damage on a successful one.
Change Shape (1/turn). The imp can polymorph into an animal form that resembles a rat (speed 4 m.), a raven (4 m., fly 10 m.), or a spider (4 m., climb 4 m.), or back into its true form. Its statistics are the same in each form, except for the speed changes noted. Any equipment it is wearing or carrying isn't transformed. It reverts to its true form if it dies.
No concoctions, maneuvers, or spells
All creatures in this system should have maneuvers or spells. You should add some maneuvers or spells to this creature. If you do so, please make a suggestion on github so I can finish adding maneuvers and spells to all creatures via https://github.com/mlenser/kryx-rpg-issues/issues/9.