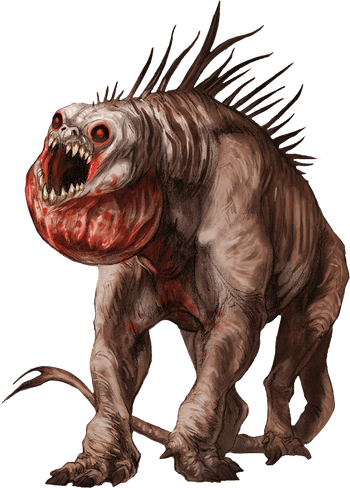 Howler
Large fiend (demon)
Challenge

8
---
STR

3
DEX

3
CON

3
INT

−3
WIS

5
CHA

−2
---
Defense note natural armor
Damage resistances cold, fire, lightning; bludgeoning, piercing, and slashing from attacks that aren't cold iron
---
Speed 8 m.
Senses darkvision 10 m.
Languages understands Abyssal but can't speak
---
Pack Tactics. A howler has advantage on attack rolls against a creature if at least one of the howler's allies is within 1 meter of the creature and the ally isn't incapacitated.
Actions (2)
Rending Bite. Melee Weapon Attack: +6 to hit, reach 1 m. Hit: 10 (2d6 + 3) piercing damage. If the target is frightened it takes an additional 22 (4d10) psychic damage. This attack ignores damage resistance.
Mind-Breaking Howl (Recharge 6). The howler emits a keening howl in a 10-meter cone. Each creature in that area that isn't deafened must succeed on a Difficulty 14 Will saving throw or be frightened until the end of the howler's next turn. While a creature is frightened in this way, its speed is halved, and it is incapacitated. A target that successfully saves is immune to the Mind-Breaking Howl of all howlers for the next 24 hours.
Desert, Grassland, Hill, Underdarkmtof
No concoctions, maneuvers, or spells
All creatures in this system should have maneuvers or spells. You should add some maneuvers or spells to this creature. If you do so, please make a suggestion on github so I can finish adding maneuvers and spells to all creatures via https://github.com/mlenser/kryx-rpg-issues/issues/9.