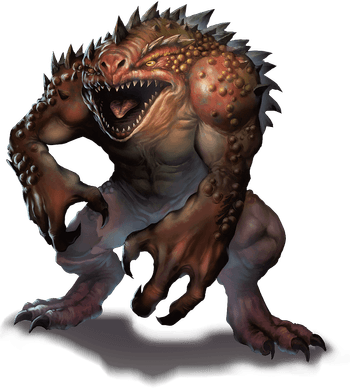 Hezrou
Large fiend (demon)
Challenge

8
---
STR

4
DEX

3
CON

5
INT

−3
WIS

1
CHA

1
---
Defense note natural armor
Damage resistances cold, fire, lightning; bludgeoning, piercing, and slashing from attacks that aren't cold iron
Damage immunities poison
---
Speed 5 m.
Senses darkvision 20 m.
Languages Abyssal, telepathy 20 m.
---
Magic Resistance. The hezrou has advantage on saving throws against spells and other magical effects.
Actions (3)
Bite (1/turn). Melee Weapon Attack: +7 to hit, reach 1 m. Hit: 15 (2d10 + 4) piercing damage.
Claw (2/turn). Melee Weapon Attack: +7 to hit, reach 1 m. Hit: 11 (2d6 + 4) slashing damage.
Variant: Summon Demon (1/long rest). The demon chooses what to summon and attempts a magical summoning.
A hezrou has a 30 percent chance of summoning 2d6 dretches or one hezrou.
A summoned demon appears in an unoccupied space within 10 meters of its summoner, acts as an ally of its summoner, and can't summon other demons. It remains for 1 minute, until it or its summoner dies, or until its summoner dismisses it on its turn (no action required).
No concoctions, maneuvers, or spells
All creatures in this system should have maneuvers or spells. You should add some maneuvers or spells to this creature. If you do so, please make a suggestion on github so I can finish adding maneuvers and spells to all creatures via https://github.com/mlenser/kryx-rpg-issues/issues/9.